News Blog
Keep up to date with the latest news, insights and features from the Adelphi Group of Companies
RIP Blue Building
December 7, 2012
Adelphi removes the last of their original site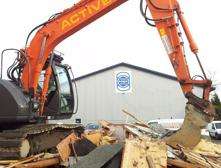 The old Blue Building has finally fallen after almost 30 years of sterling service at The Adelphi Group. For almost 30 years our prefab concrete
Blue Building (oddly named given it was actually grey) has stood on Adelphi's site at Haywards Heath. In that time it has had many varied and valued roles including:
A business incubation unit that housed two of our companies in their very early years.
A warehouse for Adelphi Healthcare Packaging (they now occupy our new warehouse which is over 20 times the size).
An unofficial museum housing priceless artifacts that chart Adelphi's development over the past 65 years.
More recently however our beloved Blue Building has been stripped of its signature blue doors, had much of its cladding and guts removed for use in various staff DIY projects, and been used as a dumping ground for all manner of business waste.
Like a much loved but aging family pet, the time had come to put it out of it's misery and release it to relive its glory days at the great industrial estate in the sky. With a tear in our eye we called in the heavy machinery and within half an hour it was reduced to a pile of rubble.
Blue Building will forever live on in our memories, and those memories will flood back each time we pass those glorious blue doors…..now fitted to our shiny new welding shop that is nearing completion as I type. More on that later, for now please take a moment to remember your own 'Blue Building', we all have one.