Chat with us!
News Blog
Keep up to date with the latest news, insights and features from the Adelphi Group of Companies
Construction Chemicals Manufacturer BASF Recommends Adelphi's Boom Filling Machines
May 10, 2022
Adelphi Masterfil customer BASF PLC (Swinton) is a leading manufacturer of concrete admixtures and concrete repair products, for the civil engineering and concrete manufacturing industries. BASF products have been, and continue to be, used in projects at the forefront of progressive construction, from the Channel Tunnel, to the new Cross Rail, aided by two Adelphi Masterfil Boom Arm filling machines.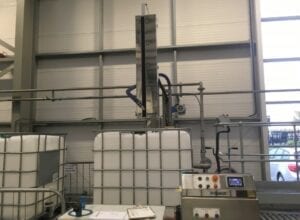 In 2015, Adelphi were pleased to supply a Flowmeter Boom Arm Filler, which now incorporates a roller conveyor, to meet BASF's needs.
In 2016, BASF's second Boom Arm filler was created, to include a 120 degree swing facility in the arm itself. This enables IBC's to be filled side-by-side, by simply swinging the arm across. Many different BASF products are being filled on this machine, with various different viscosities. This includes some products which are soapy, but the
Boom Arm filler comes with the capacity to adjust the fill style to minimise foaming.
BASF's Engineering Manager Paul Higson enthused in a recent interview that "we've
had them quite a while now, and I would definitely recommend Adelphi Masterfil's machines. We've had really good service from Adelphi Masterfil".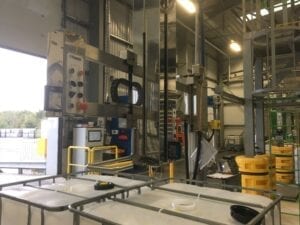 Benefits of the Adelphi Masterfil Boom Fillers:
Extensive filling range from 20L to 1,000L at exceptional accuracy of +/- 0.2%
Suitable for low to high viscosity liquids, including rise-while-fill functionality for foamy products
A 120 degrees swinging arm enables IBC's to be filled side by side for improved operator safety and comfort
316L stainless steel wetted parts offer exceptional chemical resistance and compliance with regulatory specifications.
For more information or a quotation for Adelphi Masterfil's Boom Arm Filling Machines, use the contact form below and you will be put in touch with an industry expert
info@adelphi.uk.com / www.adelphi.uk.com / 01444 472 300