Chat with us!
News Blog
Keep up to date with the latest news, insights and features from the Adelphi Group of Companies
Ask the Expert – Automatic Filling (Improving Accuracy)
May 17, 2022
Automatic Filling Equipment:
How to upgrade your productivity and output for greater competitive advantage
Trevor Pimm, filling expert and International Sales Manager at Adelphi Masterfil, addresses the biggest challenges faced by Middle East manufacturers, and solves the most frequent questions being asked…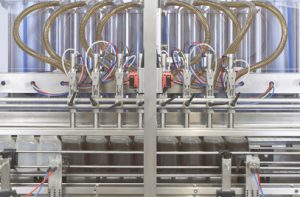 Challenge #2: When it comes to increasing profitability, another frequently missed opportunity is honing – and maintaining – the accuracy of your filling processes.
Your Key Question: How do we ensure we are getting the greatest possible accuracy from our filling machines?
Trevor's Recommendation: I cannot stress strongly enough the importance of regular machine servicing and maintenance. This will resolve any inconsistency or performance deterioration before it has the chance to impact your profitability. A maintenance schedule minimises the likelihood that disruptive issues can crop up in the middle of your production, and the cost of regular maintenance is minimal when compared to the cost of cumulative loss of accuracy over time.
If you are at the stage where you are considering investing in a new filling machine, there are some seriously high-precision options available in the marketplace. For example, Adelphi Masterfil's S5000-A series boasts exceptional filling accuracy of ± 0.2 % on the standard model, or ± 0.1% on the servo model (compared to the industry average of ± 1%), to significantly improve your return on investment.
Look out for Trevor's next article, which will discuss how to investigate the credentials of your machinery supplier, and the key points to consider before making an investment.