Chat with us!
News Blog
Keep up to date with the latest news, insights and features from the Adelphi Group of Companies
Ask the Expert – Automatic Filling (Reducing Downtime)
May 17, 2022
Automatic Filling Equipment:
How to upgrade your productivity and output for greater competitive advantage
Trevor Pimm, filling expert and International Sales Manager at Adelphi Masterfil, addresses the biggest challenges faced by Middle East manufacturers, and solves the most frequent questions being asked…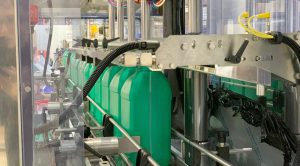 Challenge #1: Even the fastest filling machines on the market can't compensate for the amount of time – and therefore money – wasted during unnecessary periods of production downtime.
Your Key Question: So how can manufacturers reduce this lost time, and mitigate the impact on productivity?
Trevor's Recommendation: Market-leading filling machine features I especially recommend looking out for include quick-release nozzles, which enable tool-less changeovers in seconds, between different containers and products. Intelligent HMI's allow your production team to save individual product and container 'recipes', for instant re-call any time in the future – this all but eliminates previously extensive set-up times in between shifts.
Ask your supplier about 'No container, No fill' sensors for your filler, as these are an excellent way to reduce container and product waste, as well as preventing time being lost through spillages.
And lastly, machines that are specifically designed to handle a wide variety of liquid viscosities are ideal: they will include differing nozzle functionality options to precisely suit your products. A great example is rise-while-filling, which increases throughput whilst filling foamy products by reducing the waiting time whilst the product 'settles', before containers are transported to your capping station.
Look out for Trevor's next article, which will discuss how to optimise filling accuracy, for greater profitability.