Chat with us!
News Blog
Keep up to date with the latest news, insights and features from the Adelphi Group of Companies
Ask the Expert – Investigating Supplier Credentials
May 17, 2022
Automatic Filling Equipment:
How to upgrade your productivity and output for greater competitive advantage
Trevor Pimm, filling expert and International Sales Manager at Adelphi Masterfil, addresses the biggest challenges faced by Middle East manufacturers, and solves the most frequent questions being asked…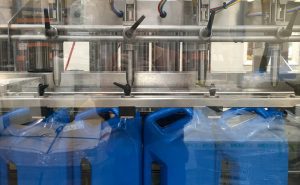 Challenge #3: There are a vast array of filling machinery suppliers worldwide, and customers need to make sure they are working with the best of the best, to secure a competitive advantage for their business.
Your Key Question: Which key factors should I be looking for when investigating the credentials of a supplier, to ensure complete investment security?
Trevor's Recommendation: The most valuable resources for businesses looking at new filling machinery are recommendations from existing users. There are now a wealth of digital resources available at your fingertips, to connect you with existing customers and support your purchasing decision. Case studies, word of mouth recommendations and Trustpilot reviews are among the most telling assets which you can ask suppliers to provide. Many suppliers will also offer you the opportunity to see a machine first-hand, in another customer's factory, as part of their quotation assurance process – this represents the gold standard!
I would also strongly advise businesses to ask about a prospective supplier's in-person and remote support services before committing to making a purchase, as this support will be invaluable – this has been especially brought to light in the past two years, thanks to the months of lockdowns and other social restrictions faced by businesses around the world.
Finally, I would urge you to invest wisely – avoid purchasing the cheapest machinery on the market, as this can often turn out to be false economy in the long run. The longer your machine is operational, the greater return on investment you will generate. I am extremely proud to say that many Adelphi machines are still fully operational over 30 years after purchase!