Durable, Easy to Sterilise, Re-Useable
Delivery within Days
Full Material Traceability
to meet international pharma and food quality compliance regulations.
Product Specification (B, C & D):
Superior quality 7 - 20L buckets available as standard.
Buckets in 304 grade stainless steel.
(12L bucket also available in 316L grade)
10 - 15L pails available as standard.
Pails in 304 or 316L grade stainless steel.
Optional lids available.
Options:
- (B) Heavy Duty Bucket
- (C) Pails
- (D) Buckets with Spouts
Exceptional average surface finish of 0.4 micrometers Ra.
Can be cleaned with alcohol-based disinfectants, and in industrial dishwashers/autoclaves.
Optional Material Grade, Surface Finish & TSE certification available upon request.
Product Specification (A):
7 - 20L tapered, stackable buckets available as standard.
304 grade stainless steel construction.
Graduations are for indication of an approximate levels of volume only.
A range of other optional modifications are available to meet every requirement, including bespoke etching, adding or removing handles and more.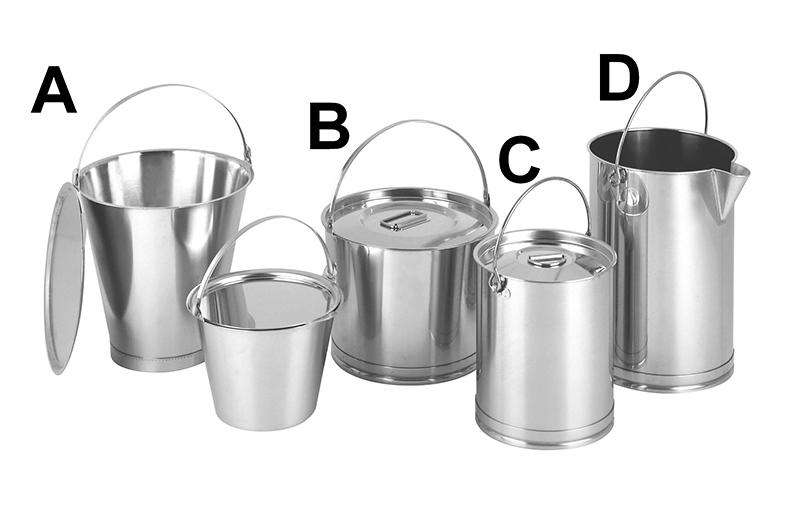 Available from Stock
(subject to availability)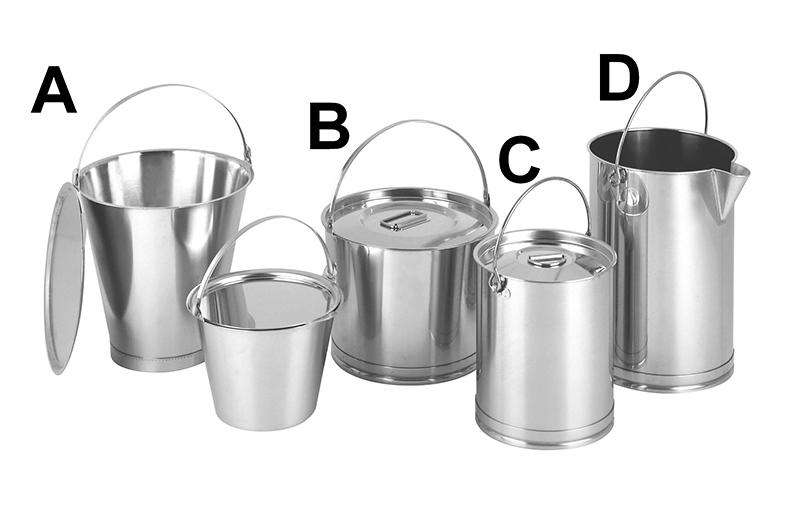 Pricing:
| Product No. | Description | Material | Price |
| --- | --- | --- | --- |
| BUC4007P | 7L Bucket | 304 SS | £39.00 |
| BUC4008G | 8L Graduated Bucket | 304 SS | £39.00 |
| BUC4010G | 10L Graduated Bucket | 304 SS | £52.00 |
| BUC4012G | 12L Graduated Bucket | 304 SS | £57.00 |
| BUC6012G | 12L Graduated Bucket | 316L SS | £75.00 |
| BUC4015G | 15L Graduated Bucket | 304 SS | £60.00 |
| BUL4007P | Lid for Bucket BUC4007P | 304 SS | £15.00 |
| BUL4008P | Lid for Bucket BUC4008P | 304 SS | £15.00 |
| BUL4010P | Lid for Bucket BUC4010P | 304 SS | £18.00 |
| BUL4012P | Lid for Bucket BUC4012P | 304 SS | £20.00 |
| BUL4015P | Lid for Bucket BUC4015P | 304 SS | £21.00 |
| BHD4015G | 15L Heavy Duty Bucket | 304 SS | £254.00 |
| BUS4010G | 10L Bucket with Pouring Spout | 304 SS | £384.00 |
| BUS4015G | 15L Bucket with Pouring Spout | 304 SS | £412.00 |
| BUS4020G | 20L Bucket with Pouring Spout | 304 SS | £488.00 |
| BSL4010P | Lid for Bucket BUS4010G | 304 SS | £95.00 |
| BSL4015P | Lid for Bucket BUS4015G | 304 SS | £100.00 |
| BSL4020P | Lid for Bucket BUS4020G | 304 SS | £100.00 |
| PAI4010P | 10L Pail | 304 SS | £208.00 |
| PAI4012P | 12L Pail | 304 SS | £219.00 |
| PAI4015P | 15L Pail | 304 SS | £224.00 |
| PAI6010P | 10L Pail | 316L SS | £269.00 |
| PAI6012P | 12L Pail | 316L SS | £286.00 |
| PAI6015P | 15L Pail | 316L SS | £292.00 |
| PAL4010P | Lid for Pail PAI4010P | 304 SS | £40.00 |
| PAL4012P | Lid for Pail PAI4012P | 304 SS | £40.00 |
| PAL4015P | Lid for Pail PAI4015P | 304 SS | £50.00 |
| PAL6010P | Lid for Pail PAI6010P | 316L SS | £55.00 |
| PAL6012P | Lid for Pail PAI6012P | 316L SS | £55.00 |
| PAL6015P | Lid for Pail PAI6015P | 316L SS | £65.00 |
Additional Modifications:
| Name | Price |
| --- | --- |
| Bespoke Etching - PRICE UPON REQUEST | + £0.00 |
Contact us about this product
Browse Other Types of Products