Tri-Clamp Ferrule Gaskets
Delivery within Days
Widely used in the food, dairy, pharmaceutical and chemical industries, all gaskets are FDA approved to meet quality compliance regulations.
Product Specification:
Supplied as Type 2 Lipped as standard.
0.5 - 4 inch Ferrule Gaskets are available in each material.
Hygienic Silicone, PTFE Solid, Viton® and EPDM material options.
Useage: designed to form a seal between Ferrule Ends, when used in conjunction with our Clamps.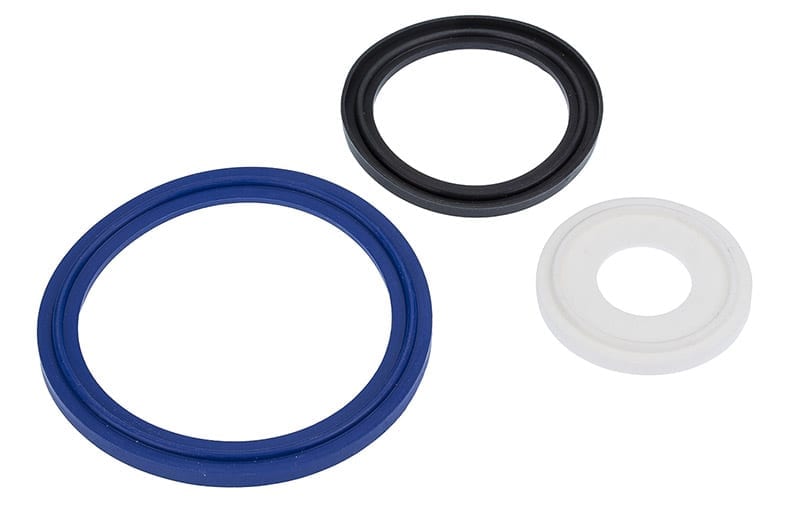 Available from Stock
(subject to availability)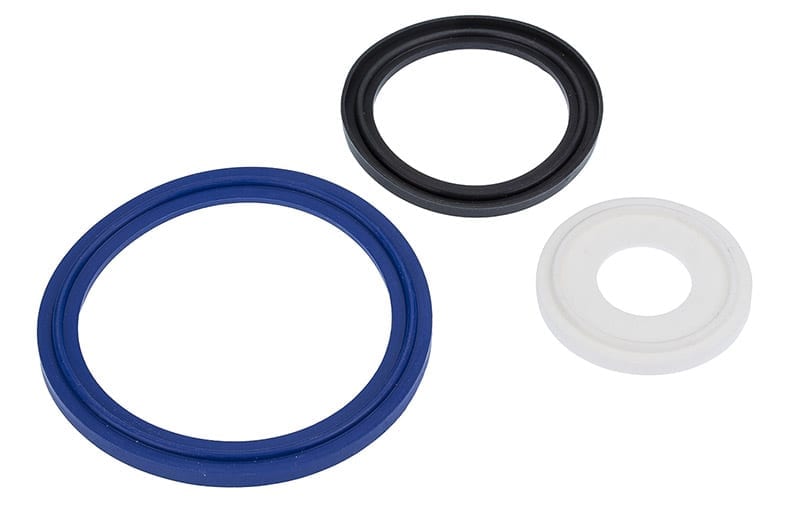 Pricing:
| Product No. | Description | Material | Price |
| --- | --- | --- | --- |
| SS1707012 | 0.5" Clamp Seal | Silicone | £2.00 |
| SS1707034 | 0.75" Clamp Seal | Silicone | £2.00 |
| SS1707100 | 1" Clamp Seal | Silicone | £2.20 |
| SS1707112 | 1.5" Clamp Seal | Silicone | £2.30 |
| SS1707200 | 2" Clamp Seal | Silicone | £2.90 |
| SS1707212 | 2.5" Clamp Seal | Silicone | £3.40 |
| SS1707300 | 3" Clamp Seal | Silicone | £3.95 |
| SS1707400 | 4" Clamp Seal | Silicone | £8.45 |
| ES1707012 | 0.5" Clamp Seal | EPDM | £1.65 |
| ES1707034 | 0.75" Clamp Seal | EPDM | £1.65 |
| ES1707100 | 1" Clamp Seal | EPDM | £1.45 |
| ES1707112 | 1.5" Clamp Seal | EPDM | £1.45 |
| ES1707200 | 2" Clamp Seal | EPDM | £1.65 |
| ES1707212 | 2.5" Clamp Seal | EPDM | £2.25 |
| ES1707300 | 3" Clamp Seal | EPDM | £2.75 |
| ES1707400 | 4" Clamp Seal | EPDM | £5.25 |
| VI1707012 | 0.5" Clamp Seal | Viton | £3.35 |
| VI1707034 | 0.75" Clamp Seal | Viton | £3.65 |
| VI1707100 | 1" Clamp Seal | Viton | £5.15 |
| VI1707112 | 1.5" Clamp Seal | Viton | £5.15 |
| VI1707200 | 2" Clamp Seal | Viton | £6.35 |
| VI1707250 | 2.5" Clamp Seal | Viton | £6.85 |
| VI1707300 | 3" Clamp Seal | Viton | £8.00 |
| VI1707400 | 4" Clamp Seal | Viton | £13.85 |
| PTFE6000.5P | 0.5" Clamp Seal | PTFE | £2.90 |
| PTFE6000.75P | 0.75" Clamp Seal | PTFE | £2.85 |
| PTFE6001P | 1" Clamp Seal | PTFE | £5.70 |
| PTFE6001.5P | 1.5" Clamp Seal | PTFE | £5.40 |
| PTFE6002P | 2" Clamp Seal | PTFE | £6.45 |
| PTFE6003P | 3" Clamp Seal | PTFE | £11.10 |
| PTFE6004P | 4" Clamp Seal | PTFE | £11.30 |
Contact us about this product
Browse Other Types of Products