Durable, Easy to Sterilise, Re-Useable
Delivery within Days
Full Material Traceability
to meet international pharma and food quality compliance regulations.
Product Specification
Tri-clamp Straight Pipes 0.5 - 4 inch outside pipe diameter are available as standard.
We can also manufacture custom lengths to suit individual requirements.
Exceptional average surface finish of 0.8 micrometers RA.
316L grade stainless steel, contains 2% molybdenum to help resist corrosion from chlorides.
Can be cleaned with alcohol-based disinfectants, and in industrial dishwashers/autoclaves.
Optional Material Grade and Surface Finish certification available upon request.
Pricing Note: please add the required length (in mm) to the end of the part number you require.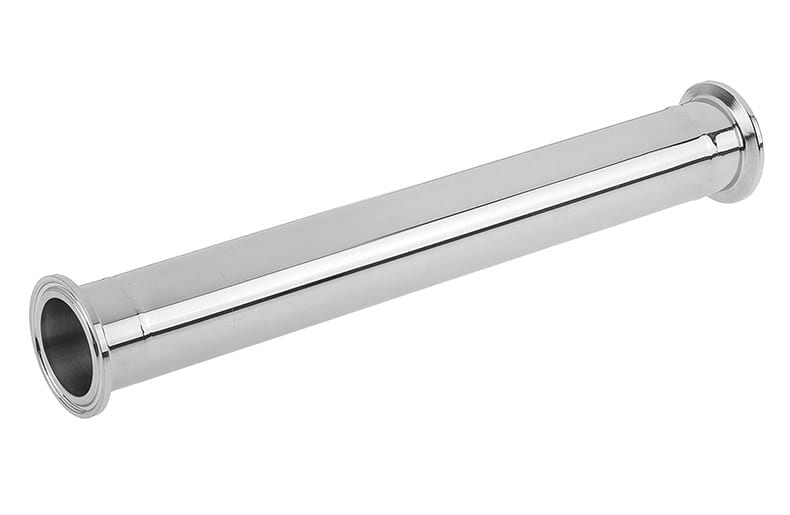 Available from Stock
(subject to availability)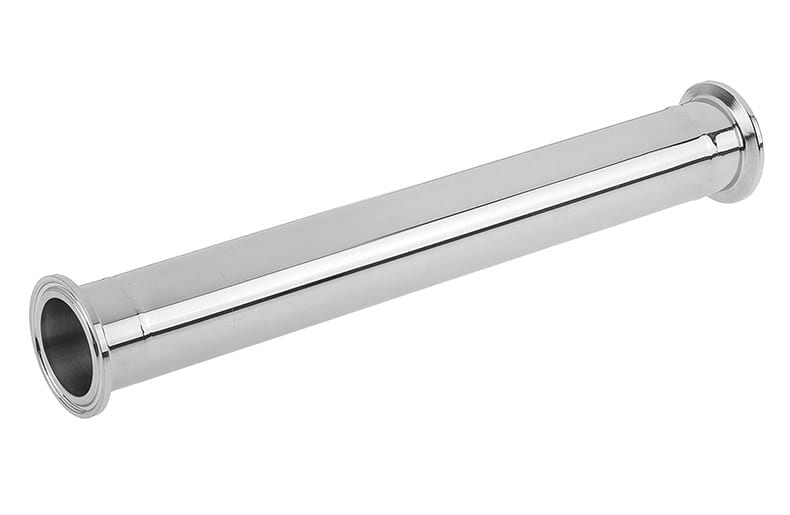 Pricing:
| Product No. | Description | Material | Price |
| --- | --- | --- | --- |
| STR60.5-*** | 0.5" Tri-Clamp Straight Pipe (All Lengths) - POA | 316L SS | £0.00 |
| STR60.75-*** | 0.75" Tri-Clamp Straight Pipe (All Lengths) - POA | 316L SS | £0.00 |
| STR61-*** | 1" Tri-Clamp Straight Pipe (up to 1.3m) | 316L SS | £163.20 |
| STR-61-*** | 1" Tri-Clamp Straight Pipe (1.3m - 1.7m) | 316L SS | £188.40 |
| STR-61-*** | 1" Tri-Clamp Straight Pipe (1.7m - 2.2m) | 316L SS | £216.40 |
| STR61.5-*** | 1.5" Tri-Clamp Straight Pipe (up to 1.3m) | 316L SS | £189.70 |
| STR61.5-*** | 1.5" Tri-Clamp Straight Pipe (1.3m - 1.7m) | 316L SS | £224.15 |
| STR61.5-*** | 1.5" Tri-Clamp Straight Pipe (1.7m - 2.2m) | 316L SS | £258.75 |
| STR62-*** | 2" Tri-Clamp Straight Pipe (up to 1.3m) | 316L SS | £243.00 |
| STR62-*** | 2" Tri-Clamp Straight Pipe (1.3m - 1.7m) | 316L SS | £263.00 |
| STR62-*** | 2" Tri-Clamp Straight Pipe (1.7m - 2.2m) | 316L SS | £271.80 |
| STR62.5-*** | 2.5" Tri-Clamp Straight Pipe (All Lengths) - POA | 316L SS | £0.00 |
| STR63-*** | 3" Tri-Clamp Straight Pipe (All Lengths) - POA | 316L SS | £0.00 |
| STR64-*** | 4" Tri-Clamp Straight Pipe (All Lengths) - POA | 316L SS | £0.00 |
Contact us about this product
Browse Other Types of Products