Durable, Easy to Sterilise, Re-Useable
Delivery within Days
Full Material Traceability
to meet international pharma and food quality compliance regulations.
Product Specification:
162 - 310mm wide trays available as standard.
304 or 316L food and pharmaceutical grade stainless steel.
Options:
- Shallow trays
- Deep trays
- Trays with an extra wide rim
Can be cleaned with alcohol-based disinfectants, and in industrial dishwashers/autoclaves.
Optional Material Grade, Surface Finish & TSE certification available upon request.
A range of other optional modifications are available to meet every requirement, including bespoke etching of logos and other information.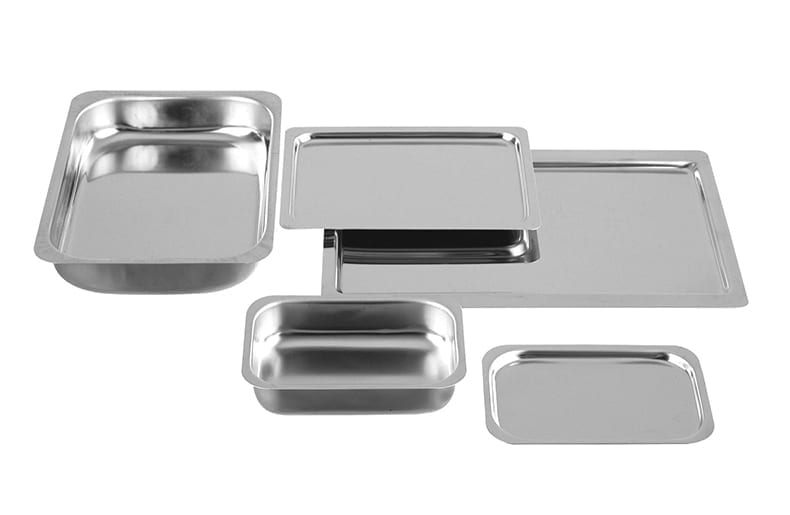 Available from Stock
(subject to availability)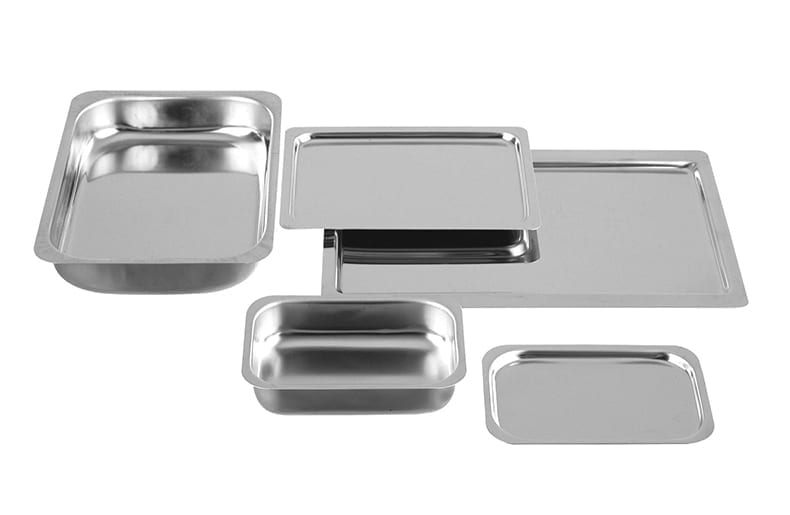 Pricing:
| Product No. | Description | Material | Price |
| --- | --- | --- | --- |
| TRA4157S | 157 x 162 x 10mm Shallow Tray (DOS - please contact our team for remaining availability) | 304 SS | £8.96 |
| TRA4215S | 215 x 160 x 10mm Shallow Tray | 304 SS | £22.00 |
| TRA4300S | 300 x 300 x 10mm Shallow Tray | 304 SS | £30.00 |
| TRA4324S | 325 x 317 x 10mm Shallow Tray (DOS - please contact our team for remaining availability) | 304 SS | £16.79 |
| TRA4325S | 325 x 265 x 10mm Shallow Tray (DOS - please contact our team for remaining availability) | 304 SS | £16.79 |
| TRA4327S | 325 x 234 x 10mm Shallow Tray (DOS - please contact our team for remaining availability) | 304 SS | £13.70 |
| TRA4360S | 325 x 234 x 10mm Shallow Tray | 304 SS | £30.00 |
| TRA4365S | 365 x 270 x 16mm Shallow Tray | 304 SS | £23.54 |
| TRA4385S | 385 x 210 x 10mm Shallow Tray | 304 SS | £32.00 |
| TRA4400S | 400 x 270 x 10mm Shallow Tray | 304 SS | £37.00 |
| TRA4440S | 440 x 325 x 10mm Shallow Tray (DOS - please contact our team for remaining availability) | 304 SS | £48.82 |
| TRA4450S | 450 x 310 x 10mm Shallow Tray | 304 SS | £52.89 |
| TRA4451S | 445 x 350 x 10mm Shallow Tray | 304 SS | £59.00 |
| TRA4495S | 495 x 325 x 10mm Shallow Tray (DOS - please contact our team for remaining availability) | 304 SS | £22.45 |
| TRA4500S | 500 x 162 x 10mm Shallow Tray | 304 SS | £17.00 |
| TRA4530S | 530 x 325 x 10mm Shallow Tray | 304 SS | £38.00 |
| TRA4900S | 490 x 320 x 10mm Shallow Tray | 304 SS | £56.00 |
| TRA6290S | 290 x 210 x 10mm Shallow Tray | 316L SS | £40.32 |
| TRA6320S | 320 x 275 x 10mm Shallow Tray (DOS - please contact our team for remaining availability) | 316L SS | £32.81 |
| TRA6415S | 415 x 240 x 10mm Shallow Tray (DOS - please contact our team for remaining availability) | 316L SS | £62.83 |
| TRA4450D | 445 x 350 x 25mm Deep Tray | 304 SS | £62.00 |
| TRA4530D | 530 x 325 x 100mm Deep Tray | 304 SS | £52.00 |
| TRA4531D | 530 x 325 x 150mm Deep Tray | 304 SS | £81.60 |
| | | 304 SS | £ |
Additional Modifications:
| Name | Price |
| --- | --- |
| Bespoke Etching - PRICE UPON REQUEST | + £0.00 |
Contact us about this product
Browse Other Types of Products