News Blog
Keep up to date with the latest news, insights and features from the Adelphi Group of Companies
Product focus: Pharmaceutical filling
July 30, 2018
[:en]XYZ Distributor and Peristaltic Filling Unit – Adelphi Manufacturing
Together these two products create a semi-automatic peristaltic filling machine for use in laboratory and small batch production environments.
Bottles, vials and other small containers can be filled automatically in trays, with the Z axis being the diving nozzle movement that allows liquid to be automatically filled from above the neck or into the neck. Benefits include:
–  Adjustable trays are supplied so that bottles are held in an orderly fashion
–  Special trays can be made to suit odd shaped bottles
–  Can fill straight rows or honeycombed configurations
The peristaltic dispensing machine can be operated by hand, foot switch, or will cycle automatically with a delay of up to ten seconds between fills. The pump runs at a constant speed for a precisely determined period of up to one hundred seconds, can run forwards or backwards, and has a choice of three filling modes. Like all peristaltic pumps the liquid only comes into contact with the inside of one uninterrupted length of silicone tubing which will withstand repeated sterilisation. This produces a completely closed system, eliminates the risk of cross contamination and is therefore ideally suited to pharmaceutical laboratory and small industrial applications. Bacteriological inline filtration can be performed at the outlet side of the pump.
Alternatively, the Peristaltic Dispensing Unit can be paired with the Adelphi Filling Jig which is designed to ensure the clean filling of small necked containers such as ampoules, without wetting the inner wall of the container at the sealing point.
To find out more, please don't hesitate to call us on +44 (0) 1444 472300, or email sales@adelphi.uk.com.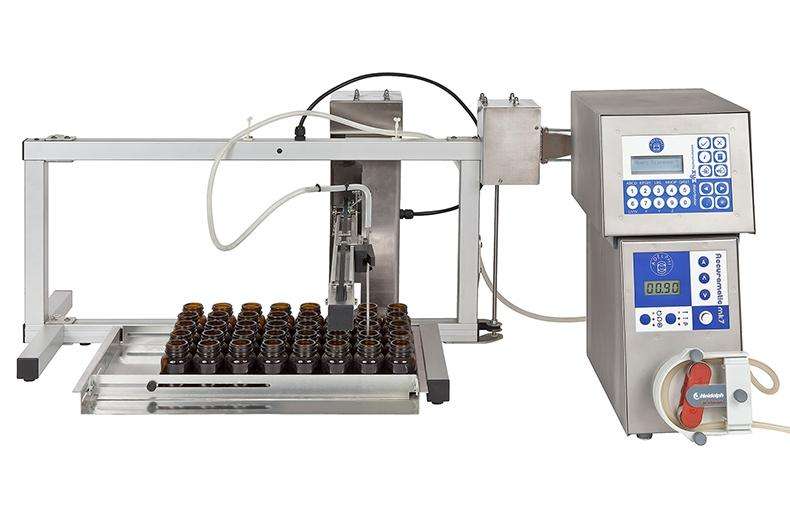 [:]