Durable, Easy to Sterilise, Re-Useable
Delivery within Days
Full Material Traceability
to meet international pharma and food quality compliance regulations.
Product Specification:
3 - 50L churns available as standard.
304 or 316L pharmaceutical grade stainless steel.
Safe transportation of liquids without risk of contamination.
Ideal for use in the food, pharmaceutical, cosmetics, chemical and dairy industries.
Options:
- (A) Chemical Churns
- (B) Churns with Swing Handles
- (C) Churns with Side Handles
- (D) Churns with Pouring Spouts
Model (A), Chemical Churns, are specially designed for the storage and transportation of antibiotics and chemicals.
Can be cleaned with alcohol-based disinfectants, and in industrial dishwashers/autoclaves.
Optional Material Grade, Surface Finish & TSE certification available upon request.
A range of optional modifications are available to meet every requirement, including bespoke etching for batch traceability.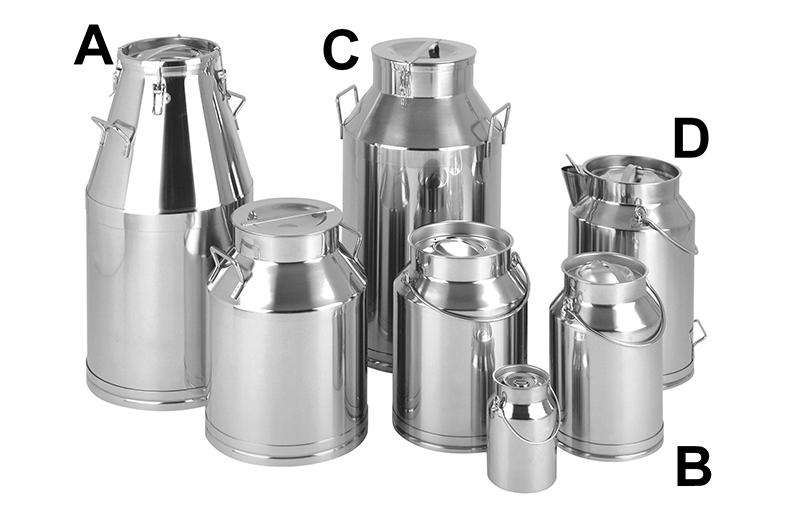 Available from Stock
(subject to availability)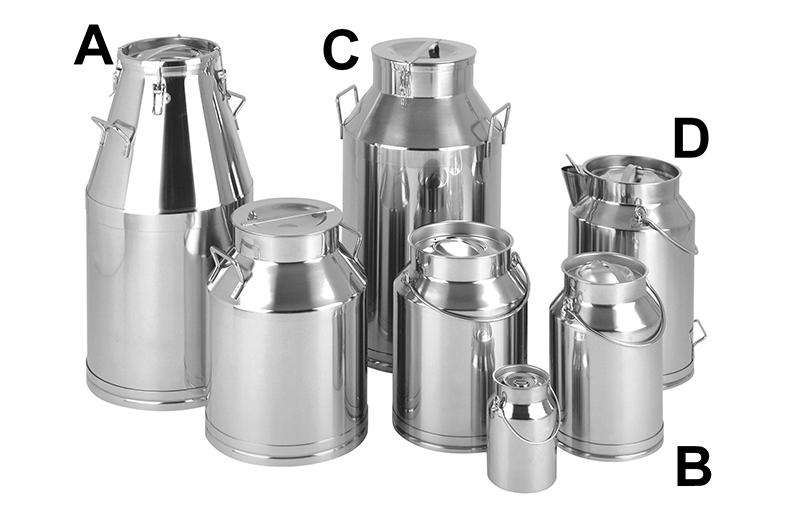 Pricing:
| Product No. | Description | Material | Price |
| --- | --- | --- | --- |
| CHU4003P | 3L Churn with Swing Handle | 304 SS | £210.00 |
| CHU4005P | 5L Churn with Swing Handle | 304 SS | £215.00 |
| CHU4010P | 10L Churn with Swing Handle | 304 SS | £385.00 |
| CHU4015P | 15L Churn with Swing Handle | 304 SS | £475.00 |
| CHU4020P | 20L Churn with Swing Handle | 304 SS | £490.00 |
| CHU4025P | 25L Churn with Side Handles | 304 SS | £670.00 |
| CHU4030P | 30L Churn with Side Handles | 304 SS | £730.00 |
| CHU4040P | 40L Churn with Side Handles | 304 SS | £855.00 |
| CHU4050P | 50L Churn with Side Handles | 304 SS | £940.00 |
| CHU4005S | 5L Churn with Pouring Spout | 304 SS | £370.00 |
| CHU4010S | 10L Churn with Pouring Spout | 304 SS | £500.00 |
| CHU4015S | 15L Churn with Pouring Spout | 304 SS | £575.00 |
| CHU4020S | 20L Churn with Pouring Spout | 304 SS | £640.00 |
| CHU6015P | 15L Chemical Churn with Toggle Clamps and Seal | 316L SS | £1195.00 |
| CHU6030P | 30L Chemical Churn with Toggle Clamps and Seal | 316L SS | £1225.00 |
| CHU6040P | 40L Chemical Churn with Toggle Clamps and Seal | 316L SS | £1395.00 |
| CHU6050P | 50L Chemical Churn with Toggle Clamps and Seal | 316L SS | £1465.00 |
Contact us about this product
Browse Other Types of Products