News Blog
Keep up to date with the latest news, insights and features from the Adelphi Group of Companies
Choosing the best Chemical filling machine for your business
February 1, 2021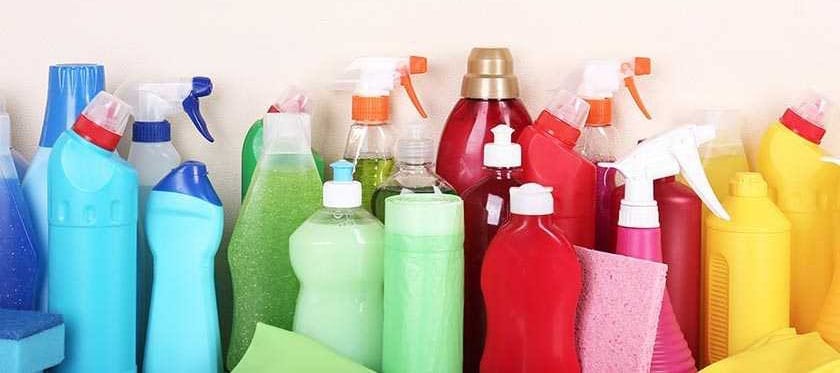 We understand that Chemical industry manufacturers face many challenges when looking to invest in filling machinery. Often a brand does not simply have one type of product, but a range that can include liquids, oils, gels, lotions, washes and more.
Purchasing an automatic or semi-automatic filling machine (or turnkey line) for chemicals and/or household products can be very rewarding for your business. Advantages include higher levels of precision and less opportunity for human filling errors, greater consistency of fill, less costly product wastage, improved speeds and more. Purchasing the right filling equipment for your products is therefore critical to ensure your procedures are optimised to save time and money, and ultimately add value.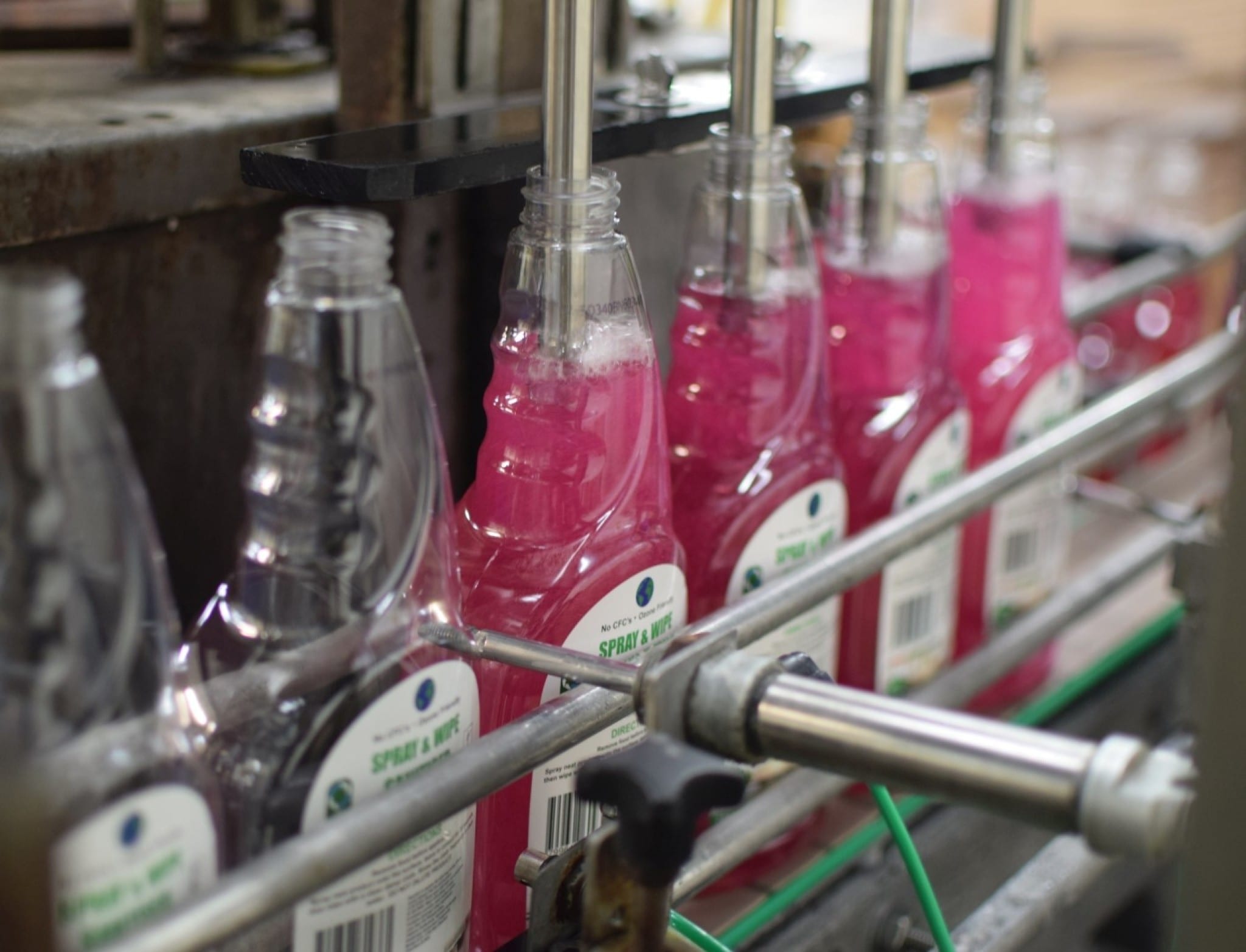 At Adelphi, these are our top 6 suggestions for considerations when purchasing:
Made in the UK
When using a UK-based manufacturer, you can have the confidence that should a problem arise, replacement parts can be with you swiftly, and local servicing and support is always on-hand. All of Adelphi's fillers – from benchtop to fully automated – are manufactured at our beautiful South of England site. We often welcome customers and contacts to visit for machine demonstrations and tours. Being a UK-based company also has the advantage that you may already know some of our customers, and can have a personal recommendation from them…
"Flexible, faster than our existing indexing filler, and very good indeed at what they do."
Kilco International
"I would definitely recommend Adelphi to contacts, as the whole purchasing process was made easy."
N&C Building Supplies
"They're the Rolls Royce of machines!"
Greyland Chemicals
"Well-built, robust bits of kit."
Evans Vanodine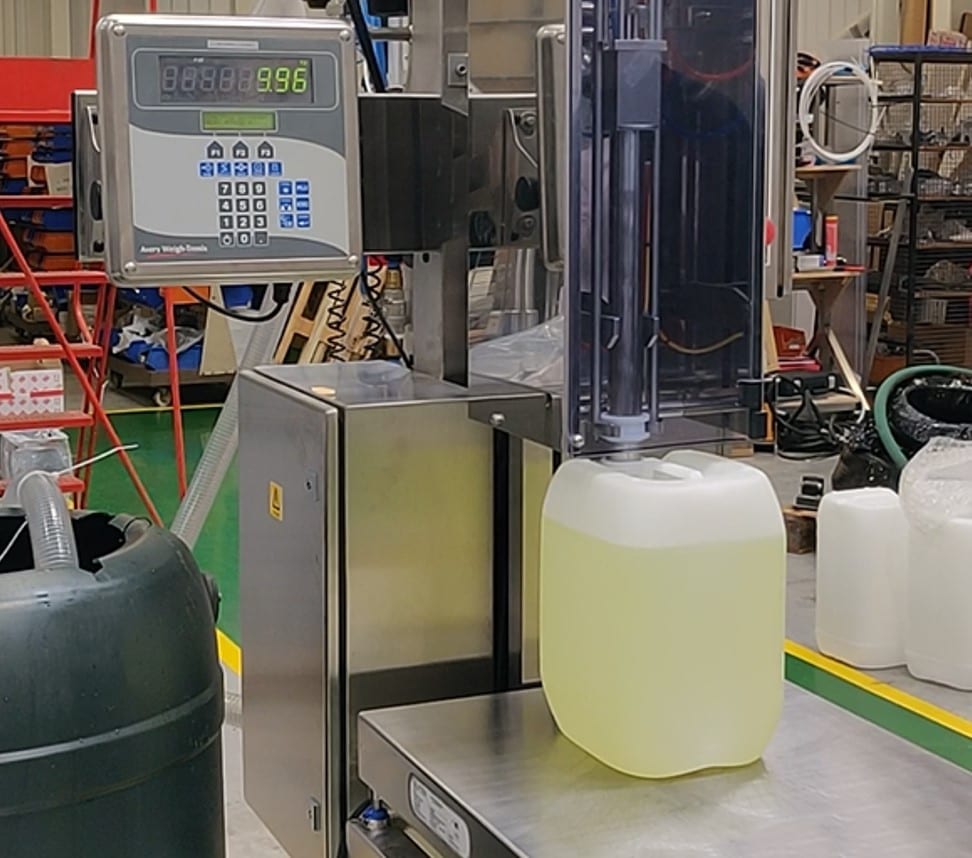 Accuracy
Accurate fillers reduce potentially pricey wastage of your products, and ensures uniformity of fill. We offer various filling options to precisely fit with your requirements. Volumetric filling machines fill your bottles or containers with a precise volume of your liquid product, regardless of what this may visually mean for the appearance of the final fill-level. Alternatively, liquid-level filling machines are designed to fill containers up to a specified level on the container, even if the exact volume of liquid in each bottle is not the same. The Adelphi Masterfil volumetric range of filling machines all boast exceptional accuracy of ± 0.2% (significantly better than the industry average of ± 1%).
Easy cleaning, strip-down and changeover
All the machines in Adelphi's Response filling range include clean, lubricant-free pneumatics and tri-clover hopper connections as standard, and the quick-strip design helps with the cleaning process. The machine can be fully deconstructed for cleaning in approximately 5 minutes. This is essential for customers in the chemical and household products industry, as it means that your full range of products can be filled using just one machine, and production downtime is kept to an absolute minimum while you change between products and containers.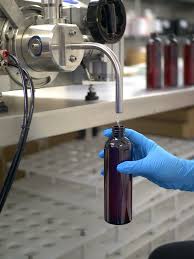 Hygiene
A filler that meets or beats your industry hygiene requirements is crucial. All Adelphi machinery is designed in line with pharmaceutical standards. All "wetted" parts which come into contact with your product are made from hygienic 316L grade stainless steel, which containers 2% molybdenum, to help resist corrosion from chlorides.
Flexibility & Growth potential
It is essential to work with a chemical filling machine manufacturer who not only listens to your current requirements, but can also advise you on production progression options for the future. The Response range includes a semi-automatic Benchtop Filler, which can be later incorporated into both the Monobloc Filler and the Automation Base, as your production needs develop further. This means that your original outlay is never obsolete. The Response Automation Base enables the user to automate up to four Adelphi Response Benchtop filling machines without losing any production flexibility. The Benchtop fillers can be taken away at any time and used as stand-alone, semi-automatic fillers. A highly adaptable automatic 8-head (up to 100ml fill) filler, can convert to up to four independent semi-automatic benchtop filling machines within just 30 minutes. Our customer LittlePod say that "Adelphi monitored our company growth and recommended machines accordingly, making sure we didn't overstretch our resources".

Sustainability
Sustainability is now a principal decision-making issue. It is therefore necessary to ensure that your filling machine manufacturer is earnestly engaging with these issues, as a sustainable supply chain can be a fantastic selling point for your range. Adelphi have been rewarded for our Sustainability efforts three times in the last year. We were named Ethical/Sustainable Manufacturer of the Year at the Made in the South East Awards, certified as Environmental Initiative of the Year at the PPMA Awards, and presented with the Most Sustainable Packaging & Processing Machinery Manufacturer (UK) award at this year's AI Business Excellence Awards. The successful submissions described our environmentally aware production facility, The Friary, which was completed in late 2017.
Are you in the chemical or household products industry, looking to take your first or next steps into automation? Contact Adelphi today to find out how we can assist with your production: call +44 (0)1444 472300 or email info@adelphi.uk.com