Suppository & Pessary Moulds
Durable & Re-Useable
to meet international pharma quality compliance regulations.
Product Specification:
Conical or torpedo shaped options.
From 6 - 100 Cavities, 0.25 - 4G.
Consistent and highly accurate to within 10%.
Durable nickel plated brass construction; washable and re-useable, for cost-effective reduced consumption of disposable plastic moulds.
For other sizes and shapes you may require, please contact us; our specialist technical department can also manufacture specials.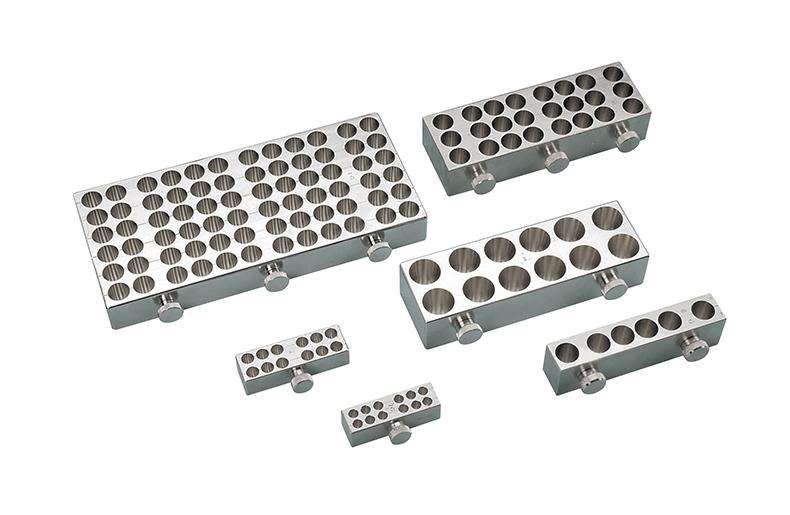 Pricing:
| Product No. | Description | Material | Price |
| --- | --- | --- | --- |
| 6005000 | Conical Mould, 6 Cavities, 0.25G | | £365.00 |
| 6005001 | Conical Mould, 6 Cavities, 0.5G | | £365.00 |
| 6005002 | Conical Mould, 6 Cavities, 1G | | £365.00 |
| 6005003 | Conical Mould, 6 Cavities, 2G | | £365.00 |
| 6005004 | Conical Mould, 6 Cavities, 4G | | £435.00 |
| 6005005 | Conical Mould, 6 Cavities, 8G | | £545.00 |
| 6005100 | Conical Mould, 12 Cavities, 0.25G | | £425.00 |
| 6005101 | Conical Mould, 12 Cavities, 0.5G | | £425.00 |
| 6005102 | Conical Mould, 12 Cavities, 1G | | £425.00 |
| 6005103 | Conical Mould, 12 Cavities, 2G | | £440.00 |
| 6005104 | Conical Mould, 12 Cavities, 4G | | £570.00 |
| 6005105 | Conical Mould, 12 Cavities, 8G | | £710.00 |
| 6005200 | Conical Mould, 24 Cavities, 0.25G | | £ |
| 6005201 | Conical Mould, 24 Cavities, 0.5G | | £570.00 |
| 6005202 | Conical Mould, 24 Cavities, 1G | | £570.00 |
| 6005203 | Conical Mould, 24 Cavities, 2G | | £610.00 |
| 6005204 | Conical Mould, 24 Cavities, 4G | | £ |
| 6005402 | Conical Mould, 40 Cavities, 1G | | £765.00 |
| 6005403 | Conical Mould, 40 Cavities, 2G | | £795.00 |
| 6005404 | Conical Mould, 40 Cavities, 4G | | £970.00 |
| 6005602 | Conical Mould, 70 Cavities, 1G | | £1045.00 |
| 6005500 | Conical Mould, 100 Cavities, 0.25G | | £1240.00 |
| 6006002 | Torpedo Mould, 6 Cavities, 1G | | £545.00 |
| 6006003 | Torpedo Mould, 6 Cavities, 2G | | £545.00 |
| 6006004 | Torpedo Mould, 6 Cavities, 4G | | £650.00 |
| 6006102 | Torpedo Mould, 12 Cavities, 1G | | £690.00 |
| 6006103 | Torpedo Mould, 12 Cavities, 2G | | £660.00 |
| 6006104 | Torpedo Mould, 12 Cavities, 4G | | £780.00 |
| 6006202 | Torpedo Mould, 24 Cavities, 1G | | £855.00 |
| 6006203 | Torpedo Mould, 24 Cavities, 2G | | £910.00 |
| 6006204 | Torpedo Mould, 24 Cavities, 4G | | £1035.00 |
| 6006602 | Torpedo Mould, 70 Cavities, 1G | | £1565.00 |
Contact us about this product
Browse Other Types of Products