News Blog
Keep up to date with the latest news, insights and features from the Adelphi Group of Companies
Welcome Satal, our new Projects/Operations Manager
April 18, 2019
[:en]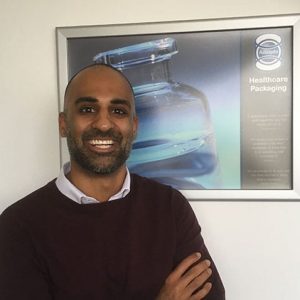 On Monday 15th April, Adelphi were pleased to welcome new starter Satal Thethy, who joins Adelphi Masterfil's team as a Projects/Operations Manager.
Previously a Project Manager for the UK subsidiary of an international flexible film packaging company, Satal has 12 years of experience in the machinery industry, with 9 of those involving direct responsibility for project management and the running of day-to-day operations.
Although he admits to being "initially hesitant", as Adelphi is geographically further away from his South London home, Satal remembers that Managing Director Chris Wilson and Masterfil Director Francisco Neto "sold Adelphi's vision to me" in the interview process, convincing him to take on this new challenge.
After what he describes as a slightly "overwhelming" start, Satal says that he left his second day at Adelphi "buzzing", and describes his new colleagues as having been "welcoming; everyone wants to include me and share what they're doing". He is looking forward to "making improvements and seeing a tangible difference" as a result of his input, and anticipates that "the process will be rewarding".
Happily, Satal has even ended up reducing his commute, by travelling by train and avoiding rush hour car traffic! A warm welcome to Satal from all your Adelphi colleagues, we are all so excited to have you on board.[:]