News Blog
Keep up to date with the latest news, insights and features from the Adelphi Group of Companies
Adelphi Estates Director's Local History Venture
July 1, 2019
A question and answer session with the Adelphi Group of Companies' Estates Director Chris Bedford; the brains behind Dumpman Films…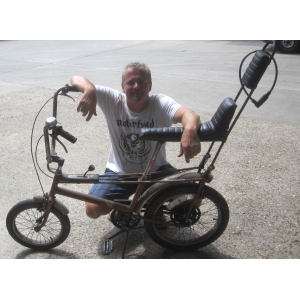 Dumpman Films, based in Sussex, specialise in hunting out hard to find scenes, views and journeys, and making them available to a wider audience. The brainchild of Adelphi Group of Companies' Estates Director Chris Bedford, the films share many values in common with Adelphi's own, including a keen interest in the local community and local history. Chris has been with the Adelphi Group for over 20 years. His content is valued as a "fascinating vault of historical information" by local interest/history documentary lovers all over the world. Viewers love his "cheerful, engaging and articulate manner", almost as much as they love the vintage Chopper which accompanies him on all his trips.
Adelphi Group Marketing Executive Rachel sat down with Chris in the balmy June sunshine to discuss his work…
When did you start making Dumpman Films, and what inspired them?
Dumpman was a nickname from school! I initially started making films of interesting and disused sites just for my personal archive. Dumpman Films as a business began in 2006, when my then-girlfriend suggested that I put my footage of Brighton's West Pier before it burned down, on Ebay. The response was astronomical, they sold like hotcakes! I've now got a customer database of over 2,000, with at least 50 of these being hardcore loyalists, who snap up new footage as soon as it's released.
What do you look for in a location, when scouting out places to film?
I've already filmed all of the disused railways in Sussex, and have branched out nationwide, as far afield as Devon and the Isle of Wight – there are enough disused railways in the UK to keep me filming for five lifetimes! However, I love other sites of historic interest also; I've been to a crumbling Victorian psychiatric hospital, wartime bunkers and more. One of my favourite bunker projects was a collaboration with the Cuckfield Museum, when I filmed their restoration of a wartime bunker. The curator had seen some of my other local footage, and called me up out of the blue!
I also welcome suggestions for new places to feature. The Somerset & Dorset Line (Bath to Bournemouth) is high up on my hit-list for the future, but it's so lengthy that I'll have to do it in chunks…
What do you think is the secret to the success of Dumpman Films?
An appreciation of history and a sense of nostalgia are key; ex-engine drivers love to buy footage of lines they've driven. I'm providing people with virtual access to places they might otherwise not be able to see; some disused railways lines may have public footpaths, but others have seriously limited access, including private or overgrown land. I think people really respond to what I call my "punk rock" approach; the content isn't anything too fancy or pretentious! I use all analogue equipment, including my 25 year old tape camera, to record my footage, which gives a sense of authenticity. And there's the Chopper, of course. The Chopper is as much a part of the films as I am; if I ever put up a film without it, people notice!
 Fresh off the press, Chris' most recent film, completed in May 2019, features the Alton to Baisingstoke Line, as seen in cult film 'Oh Mr Porter'. For more information, visit www.dumpman.co.uk or email dumpman1@hotmail.co.uk