News Blog
Keep up to date with the latest news, insights and features from the Adelphi Group of Companies
Spotlight feature: our Sales Team
May 8, 2019
[:en]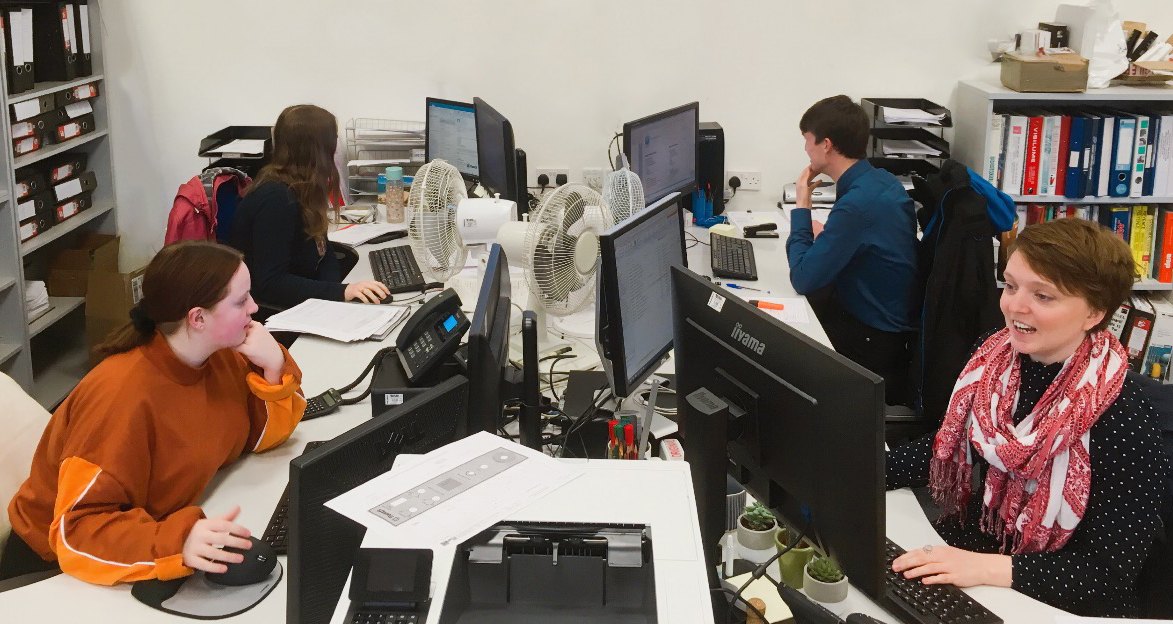 Get to know our wonderful Sales Team, who answer your queries and quotation requests:
Samantha Oliver, Internal Sales Manager
Samantha joined Adelphi in 2012, and has been a key player in the growth of Adelphi Masterfil over the past 7 years. Samantha manages the internal sales team for all three of the engineering companies in the Adelphi Group (Adelphi Masterfil, Adelphi Manufacturing and Pharma Hygiene Products Ltd), and additionally takes care of all the aftersales support and spare parts for the machinery ranges. Her unquestionable dedication to Adelphi led to her worthy promotion to the board of directors for Adelphi Masterfil in 2018. Outside of work, Samantha is just as dedicated to her yoga, and loves to wind down at regular classes.
Joanna Armstrong, Sales Administrator
After completing her BTEC Level 2 Diploma in Business Administration and working as an apprentice in the Adelphi Sales Team from 2016 to 2017, Joanna proved invaluable and was offered a full time position as a Sales Administrator in September 2017. The fantastic speed with which she takes on board new information means that Joanna is often the go-to trouble-shooter when Samantha is busy with her other duties. In her spare time, you'll find Joanna volunteering at Standen or Sheffield Park; two of the National Trust's stunning local properties.
Chloe Byrne, Apprentice Sales Administrator
Chloe joined the Adelphi team as an apprentice in June 2018. Her friendly, vivacious manner means that she has quickly fitted in with her colleagues, and it's now hard to imagine the team without her! Chloe is looking forward to completing her apprenticeship in July 2019, having recently passed her IT exams with flying colours. When she's not supporting customers in her role as Sales Administrator, Chloe loves going to the gym or chilling out with a good box set!
Joseph Willis, Apprentice Sales Administrator
The newest addition to our Sales Team, Joseph joined Adelphi in 2019, after an uninspiring university experience brought him back home to Sussex. His belief in his natural aptitude for sales and finances led him to apply for a BTEC Level 2 course in Business Administration, through Crawley College. Joseph was initially attracted to a position at Adelphi as he felt it perfectly married his educational background in chemistry, with this natural skill set. Many of Adelphi's customers are involved in research/laboratory industry, and Joseph was interested to see another aspect of the industry's processes and production. Outside of work, Joseph enjoys hiking on the downs and playing board games with family and friends.[:]