Chat with us!
News Blog
Keep up to date with the latest news, insights and features from the Adelphi Group of Companies
Why a Semi-Automatic Response Benchtop Tube Filling Machine is the next step to upgrading your production process
November 4, 2021
Are you currently manual filling your tubes? Filling by hand can only offer an average accuracy of ±10% meaning you could be giving away as much as 100 tubes of product out of 1,000 units! We can help resolve this issue with the Response Benchtop Tube Filler by guaranteeing an exceptional filling accuracy of up to ± 0.25%, significantly reducing waste and improving profitability
The benefits don't just stop there, here's 3 reasons why the Response Tube Filler is trusted by manufacturers around the globe:
Time-efficient and fast filling allows an average of 30 tubes to be filled per minute, potentially producing up to 14,400 tubes in an 8-hour shift.
We understand that not all customers have the space for a large machine, which is why we have designed the Response Benchtop Tube Filler to be space-efficient enough to conveniently fit on a small table. Optional mobile frames to wheel around the machine if needed in other areas
All Response Benchtop Tube Fillers are fitted with 316L pharmaceutical grade stainless steel wetted parts. These exceptionally hygienic parts adhere to FDA regulations for guaranteed international pharma-quality compliance. Risk of contamination is also reduced by reducing manual processes as the product comes into contact with fewer people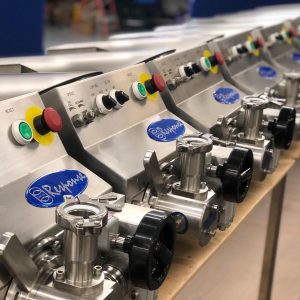 Want to find out more? Contact us on 01444 472 300 or email info@adelphi.uk.com to challenge an expert with your filling requirements.