Mayfield Laboratories
"It's been tremendous!"
Production consultation enables 25% productivity improvement at Mayfield Laboratories
Mayfield Laboratories is part of Natural Looks Trading Ltd., specialising in luxurious, naturally inspired toiletries, fragrances, hair and skincare products. Their complete range is manufactured at their UK factory, and their distribution footprint extends worldwide.
After over 35 successful years in business, their next phase of growth is being masterminded by Peter Darke; an industry professional with experience in defining and developing manufacturing operations.
Peter consulted with Dean Willis, Sales Director of Adelphi Manufacturing, in his quest to refine the existing operational processes at Mayfield Laboratories, to increase efficiency and improve the overall flow and productivity…
"I've been doing this for quite a few years now!" laughs Peter, "and to be subjected to hard-selling of machinery and equipment is really unpalatable. I prefer to use my network of experienced contacts to support my own knowledge, and help me to achieve the desired improvements." Peter appreciates that Dean has "years of experience looking at machines and assessing what you can do to improve."
Dean and Peter have each amassed over 30 years' worth of know-how in the cosmetics and personal care process and packaging industry, and enjoy a good rapport, jovially reminiscing about shared industry events and contacts. As a result, Peter appreciates and values a high level of service and sound, actionable advice. "If you just sell, without support, you won't last long", he declares. With Adelphi Manufacturing celebrating their 75th anniversary in 2022, this certainly isn't the approach they have chosen!
Improvement 1
Fill Speed Adjustment
At his initial consultation visit in 2021, Dean encouraged Production Manager Kate Reeley to increase the filling speed at which the team were running their Adelphi Manufacturing Response Benchtop Fillers, to counteract the unsightly air pockets which were appearing in a body lotion.
This also had the benefits of improving the consistency of filling weights, and increasing throughput from 16 bottles to 25 bottles per minute; over 500 additional bottles per hour!
Kate's verdict? "We noticed the improvements straight away. We get much more out of the machines than we did before. We use them every day, there's always one or two Response's running!"
Improvement 2
Hopper Adaption, Electrical Sensor
General Manager Lucy Poole praises the improvements made by the hopper adaptation which Dean suggested at his initial consultation visit; an electrical sensor, which senses when the amount of product in the hopper is getting low, and automatically tops it up from the feed drum.
She recounts how Mayfield Laboratories implemented this with one hopper initially, to prove the concept, describing the outcome as "fantastic!" She enthuses that the Response is now the team's favourite machine, above any which were previously preferred before Dean's advice was taken on board.
The benefits of this adaptation are threefold:
•   Safety: less traipsing up and down a ladder to fill the hopper, for operators!
•   Hygiene: avoids double-handling of the product when feeding the filling machine.
•   Efficiency: improved use of time, can leave an operator free to assist production elsewhere.
Lucy also mentions that "the single-shot fill on the Response is much higher," and it can therefore fill much more of the Mayfield Laboratories range than previously believed. This includes potentially challenging high viscosity body scrubs; traditionally a slow fill. Dean is quick to boast, "the machine runs well on scrubs", and Lucy counters "it runs well on everything!"
Assistant Supervisor Julia adds: "you can rely on them more than any other machine – you set the fill volume, and once you've got it there it stays there. They're also easier to strip than any other machine we have." Minimal downtime for stripping and cleaning is crucial, as Mayfield Laboratories fill batches of anywhere from 500 – 10,000, with their incredibly varied range of container and product types.
Improvement 3
Preventing Product Waste from Nozzle Dripping
At his return visit in 2022, Dean helps to iron-out an issue with a silica-based anti-frizz hair serum, which had been dripping in between fills, unnecessarily wasting product. Although the sticky product caused some initial challenges, the correct solution was found and all parties have been pleased with the resolution!
The Overall Verdict?
"It's made a huge difference," says Peter. "There's been a real step forward since Dean came in and helped, it's been tremendous." "Throughput is so much better since Dean's training and adjustments – around 25% more productive overall."
Providing what Peter calls "bitesize chunks of improvements" has resulted in a wish list of actionable points for Mayfield Laboratories, which the team can regularly revisit and analyse in terms of the costs and benefits of each, and the achievable next steps.
Lucy adds that Adelphi have provided "ongoing support as the business is growing," saying "if we're bringing out a new product, we know we can ask your advice about how best to fill it – we can always pick your brain!"
Founded over 35 years ago, Mayfield Laboratories remains a family owned and run business. During this time they have built a wealth of experience and have an enviable reputation within the industry, priding themselves on delivering consistently high quality solutions and customer care.
Now heading for further ISO and GMP certification, the whole team at Mayfield Laboratories demonstrate an impressive culture of continuous improvement. They have taken on two extra units to help realise their expansion goals, and now employ their own in-house formulation chemist – the Mayfield portfolio boasts over 1,000 formulations to date!
Dean personally, and Adelphi Manufacturing as a company, are delighted to be assisting Mayfield Laboratories to achieve their business goals; offering responsible advice which enables businesses to weigh up the cost, output and operational improvement benefits and make well-informed decisions to enable sustainable future growth. We look forward to continuing this relationship long into the future.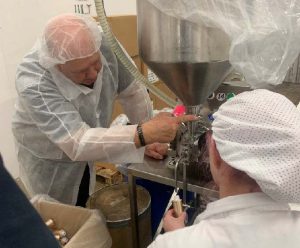 #MoreThanManufacturing