News Blog
Keep up to date with the latest news, insights and features from the Adelphi Group of Companies
Apprentice of the Year
July 16, 2018
[:en]PPMA's Apprentice of the Year 2016 – Adelphi's Harry Phelps
"I never expected to win an award, I wasn't even aware that I was nominated!" laughs Harry when asked about his victory two years ago. Thinking he was simply getting on with his work and learning as any apprentice should, Harry's award came as a surprise to nobody but himself, after he was secretly nominated by Adelphi Workshop Manager Gary Thompson. All his colleagues here at Adelphi were fully behind the nomination, aware that Harry was going above and beyond at every opportunity.
Since winning the award in 2016, Harry has continued to excel, and his career is going from strength to strength. He has completed his level three Advanced Apprenticeship in Manufacturing Engineering, and, backed by Adelphi, has also finished three further level two welding courses (TIG Aluminium, TIG Stainless Steel and MIG). These new skills have meant that Harry is now fully involved and often depended on for prototype and modification work, and is continuing to learn on each new machine build that he is a part of.
Looking to the future and in light of the significant recent growth seen by the Adelphi Group, Harry is enthusiastic about continuing to develop his welding and machining knowledge at the company, as more projects are undertaken. He hopes to "perhaps even learn about electrical side of things, who knows?" – but it's certainly clear that his future is bright.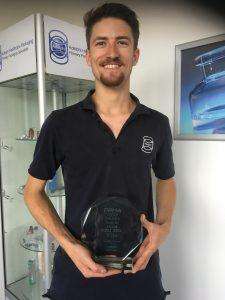 [:]