News Blog
Keep up to date with the latest news, insights and features from the Adelphi Group of Companies
Welcome Joseph, our new apprentice Sales Administrator
April 17, 2019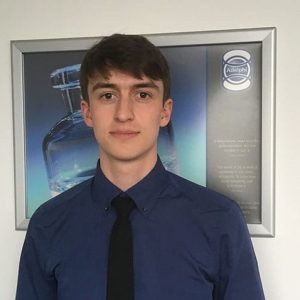 On Monday 15th April, Adelphi were pleased to welcome new starter Joseph Willis, who joins the team as an apprentice Sales Administrator.
After an uninspiring university experience brought Joseph back home to Sussex, his belief in his natural aptitude for sales and finances led him to apply for a BTEC level 2 course in Business Administration, through Crawley College.
Joseph was initially attracted to a position at Adelphi as he felt it perfectly married his educational background in chemistry, with this natural skill set. Many of Adelphi's customers are involved in research/laboratory industry, and Joseph was interested to see another aspect of the industry's processes and production.
He describes enjoying his interview experience with Internal Sales Manager Samantha Oliver because "she was easy to talk to", despite initially being somewhat overawed by the premises; namely Adelphi's double-award winning production facility The Friary. The interview process, Joseph enthuses, left him with a good impression of Adelphi as an employer, as "Samantha described Adelphi's long and successful history of nurturing apprentices and seeing them go on to succeed. We're not just cheap labour!"
Joseph describes his new colleagues as "friendly and knowledgeable", and says he is particularly looking forward to "improving his business knowledge" under the watchful eye of his mentor Samantha, and "picking the brain" of Technical Director Jeremy Hart.
We are thrilled to welcome Joseph aboard, and to see him develop skills in this new arena. An exciting new addition to the team; watch this space!