News Blog
Keep up to date with the latest news, insights and features from the Adelphi Group of Companies
Spotlight feature: our Design/Engineering Team
May 16, 2019
[:en]

Get to know our brilliant Design/Engineering Team, the technical brains behind our machinery:
Piotr Szymczak, Design Engineer, Adelphi Masterfil
Piotr started at Adelphi in 2012, after four years as a Mechanical Design Engineer at another Sussex-based company. He holds both a Batchelor's and a Masters degree in Mechanical Engineering from Lublin University of Technology in his native Poland, completed in 2003. At Adelphi, Piotr is responsible for designing, modifying, adapting and optimizing components for machinability, improved design and cost reduction. He designs special purpose liquid packaging machines, designs and amends machine air circuits, and provides technical support for our servicing, sales and spares departments. Outside of work, Piotr has a taste for the finer things, and enjoys roasting his own coffee.
Rob Grantham-Hill, Design Engineer, Adelphi Masterfil
Rob joined Adelphi in September 2017, from a background in HND Motorsport Engineering, with welding qualifications after working for a manufacturer of aerosol filling and capping machinery. At Adelphi, he is primarily responsible for designing, research and development and issuing machines, although he still enjoys the occasional opportunity to put his welding skills to good use! When he's not masterminding Adelphi Masterfil's machinery designs, Rob enjoys high-level weightlifting, and pampering his two beautiful pedigree Ragdoll cats.
Alex Blayden, Design Engineer, Adelphi Masterfil
Alex began working for Adelphi in August 2016, and was recently promoted from Junior Design Engineer. He holds a degree in Mechanical Engineering from the University of Brighton, and is responsible for all aspects of machinery and machine component design/R&D, issuing machines and managing an increasing number of projects. In his spare time, you'll find Alex powering along the Downs Link on his bike; he recently completed the challenging route to Winchester, and will shortly be undertaking the BHF London to Brighton ride.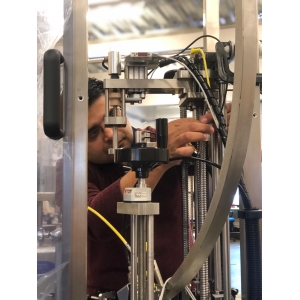 Benjamin Vellacott, Design Engineer, Adelphi Masterfil
The newest member of our Design Team, we were pleased to welcome Ben aboard in early 2019. A recent Masters graduate in Mechanical Engineering from Portsmouth University (passed with Distinction), Ben's degree and his participation in the Formula Student Team have given him a fantastic basis of engineering knowledge; this and his friendly, confident manner has seen him immediately slot into the Design Team. Now that the football season is over, Ben is getting more and more into golf in his spare time.
Wolford Pereira, Controls & Automation Engineer, Adelphi Masterfil
Wolford started working for Adelphi in February 2016, after previously working as an Automation Engineer for international companies including Bosch and Colgate. He also holds a Bachelors degree in Electronics and Instrumentation Engineering. At Adelphi, Wolford is responsible for managing the Controls & Automation Team, making sure machines are up to spec, handling new projects, spacing new machines, and providing servicing and sales support to our customers. Outside of work, Wolford lives life in the fast lane; he enjoys driving and modifying sports cars and bikes, and going to car shows.
Paul Gay, Controls & Automation Engineer, Adelphi Masterfil
Paul joined Adelphi in early 2018, from a background in design in Electrical, Automation, Programming, Commissioning and Delivery. He has managed project portfolios of £100k to £10m in value, in industries including Food Processing & Manufacturing, Nuclear, Oil & Gas and Pharmaceutical. At Adelphi, Paul covers all aspects of automation for our equipment, from Inception through to Commissioning, Training and Delivery, whist also providing Customer Back Office Service Support. Outside of work Paul is an avid photographer, walker, cyclist and family orientated person, and loves exploring new places; recent discoveries include Finland, Sweden, Estonia and Denmark!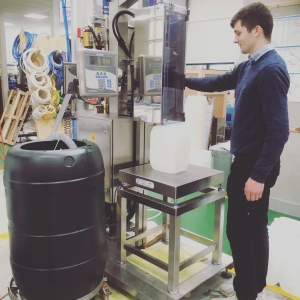 Jeremy Hart, Technical Director, Adelphi Manufacturing & Pharma Hygiene Products Ltd
Since joining Adelphi in the 1990's, Jeremy has seen the business double in size, and is now directly responsible for the development of many of the products sold through the Adelphi Manufacturing and Pharma Hygiene Products Ltd divisions.  Nowadays a lot of his time is spent designing bespoke equipment, thanks to our customers knowing from experience that Jeremy's passion is for engineering usually results in a 'right first time' solution. To wind down, he enjoys throwing himself down icy slopes or tending his garden when the weather is less than ideal for skis.
Anand Kulkarni, Design Engineer, Adelphi Manufacturing & Pharma Hygiene Products Ltd
Anand arrived at Adelphi in March 2017, with a Masters degree in Mechanical Engineering and twelve years of design experience in the manufacturing sector. His main responsibility is the design and development of new products for Adelphi Manufacturing (most recently the Response Monobloc Filler). A true perfectionist, Anand was on site at all hours of the day and night during the development and construction process, ensuring that every aspect of the Monobloc machine was faultless. In his spare time, Anand plays cricket for his village team, and helps to coach his son's junior cricket team also.[:]