News Blog
Keep up to date with the latest news, insights and features from the Adelphi Group of Companies
The history of Adelphi's welding department
August 29, 2019
[:en]Marketing Executive Rachel, in conversation with the founding member of Adephi's welding team, Dave Ray…
Dave was born and bred in Cuckfield, a stone's throw away from what is now the Adelphi site in Haywards Heath, West Sussex. He began his career as an apprentice coppersmith in Crawley, before redundancies saw him move to a fabrications business in Bolney in 1988. It was while working in Bolney that a chance encounter with Peter Cockburn, then a director of Fluid Equipment Ltd (which had been purchased by the Adelphi Group in 1973), laid the foundations of the relationship which would develop Adelphi's welding department.
Peter began to outsource Fluid Equipment's welding to Dave, at the company in Bolney, and quickly came to rely upon his skills. When the threat of redundancy loomed again for Dave, he proposed a mutually beneficial solution to Peter; Fluid Equipment – now based in Finches Yard, Haywards, Heath – should invest in a welding machine, and Dave would pop in at weekends and on his free evenings, to continue to weld the parts they wouldn't entrust to anyone else.
As Fluid Equipment's business thrived, they offered Dave a part-time welder's job, working mornings, which became a full time role after just two weeks; the Adelphi welding department was born!
When Fluid Equipment Ltd moved to Dorset, Adelphi Chairman Stephen Holroyd kept Dave on as a warehouseman for the Adelphi Group, and after the Group acquired Coldstream Engineering (now Pharma Hygiene Products Ltd) in 1994, welding requirements picked up once again. Adelphi Coldstream were outsourcing their welding to London, where the old Coldstream Engineering had always sent this work. But when Dave suggested it would be beneficial to bring welding work in-house, Stephen and Technical Director Jeremy jumped at the chance!
Since then, Dave and Adelphi's welding department have gone from strength to strength. An ever-increasing set of fabrication work is now completed in-house, including machine components for Group companies Adelphi Manufacturing and Adelphi Masterfil. This has drastically improved the carbon footprint of our deliveries.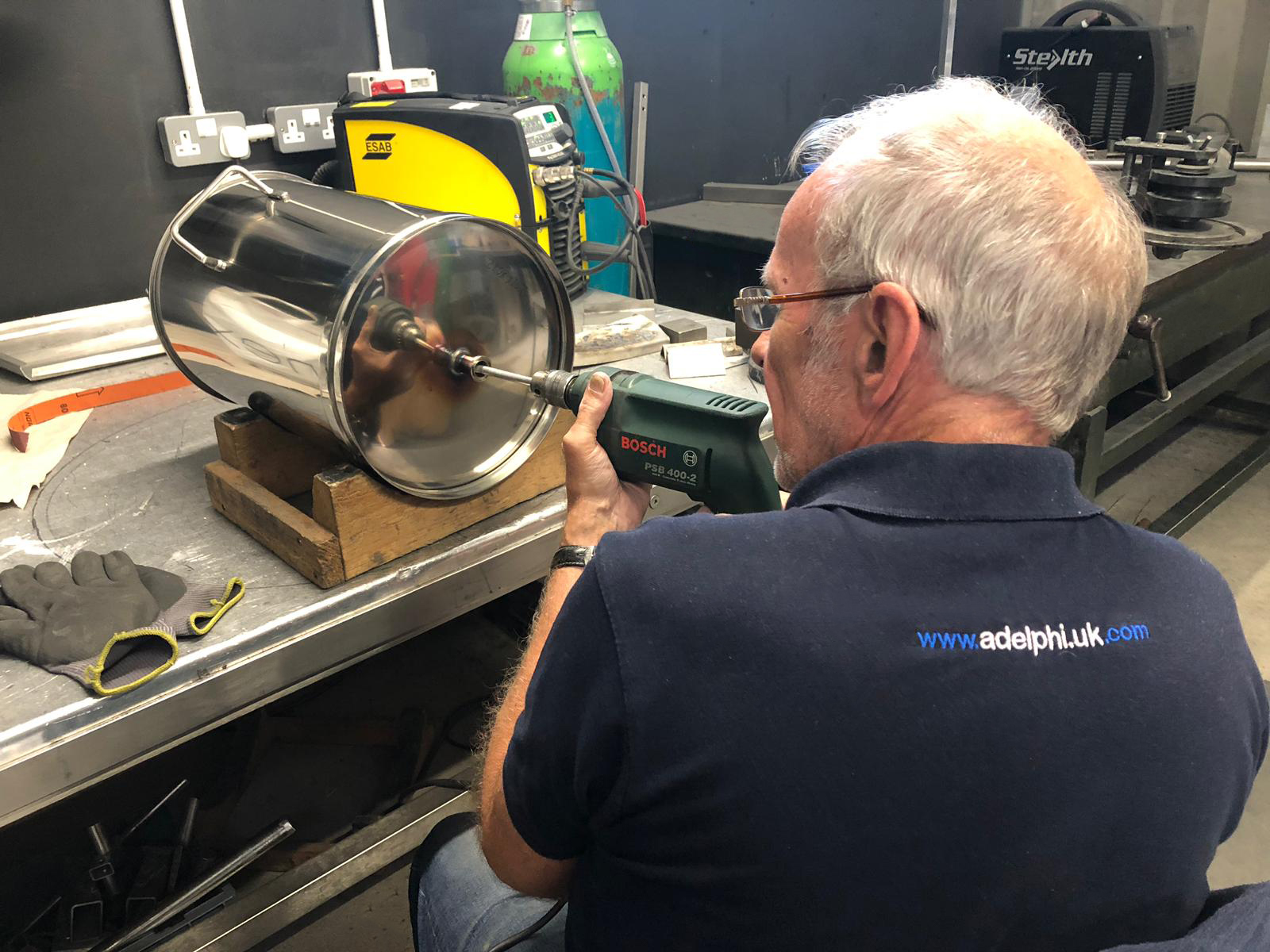 Dave at work in the Welding Department
Dave fondly remembers being a one-man 'department', welding in an old brick outbuilding, after the Adelphi Group's move to the former Gas Site on Mill Green Road in 2000 (where Adelphi's premises remain to this day). However, apart from his continued presence on the team, Dave's department is now unrecognisable! The welding area reaped the benefits of Adelphi's development of their eco-friendly production facility, The Friary, in 2017, and the welding space is now spacious, light, and equipped with the latest technology.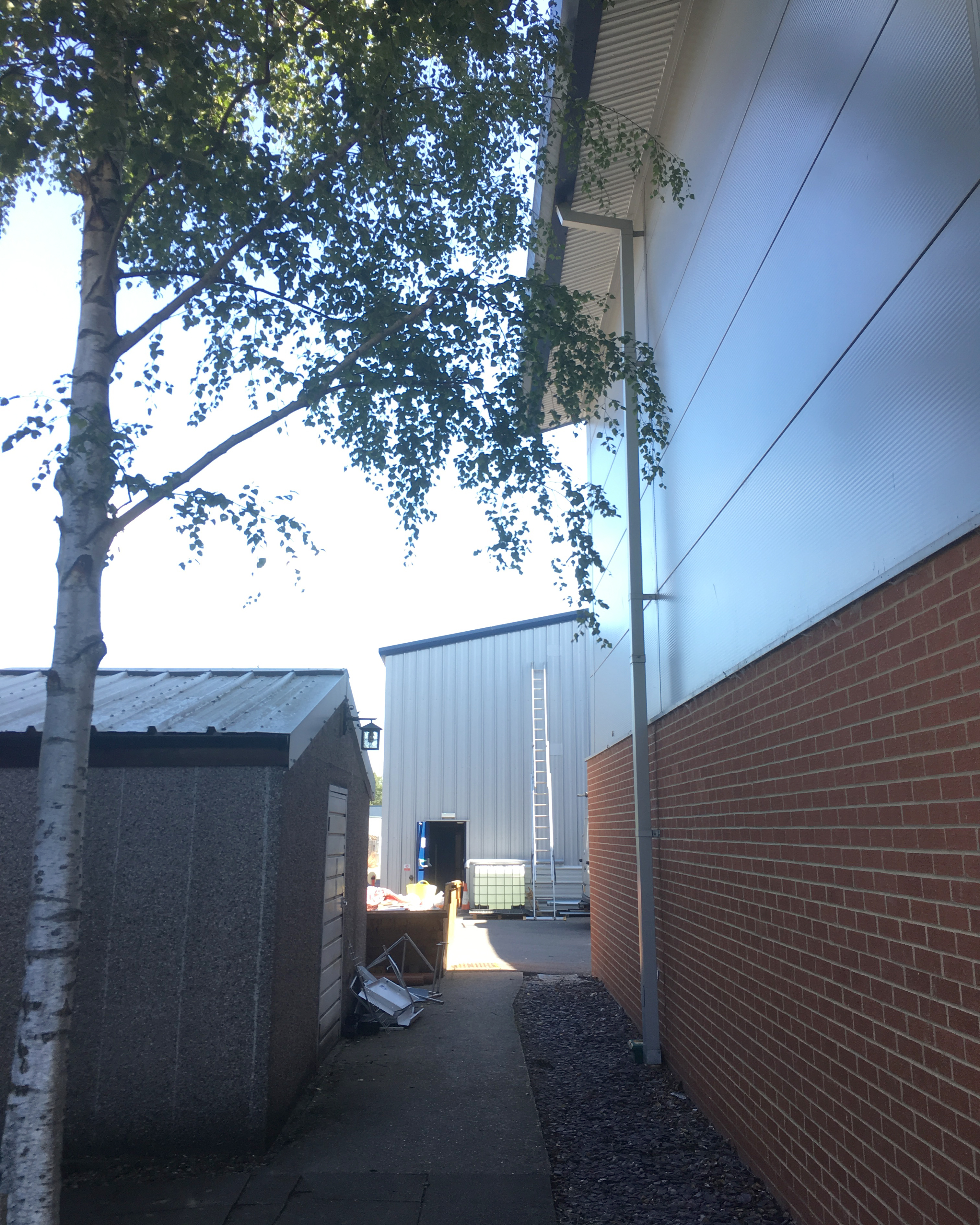 Dave's old welding building, now in the shadow of Adelphi's eco-friendly production facility The Friary
Adelphi's welding team now includes Stuart Bateup, a fantastic full-time welder/fabricator with 10 years experience in the industry, and Alfie Powers, a talented apprentice who is 18 months into his training.
Adelphi are proud to offer modifications and custom design work, all carried out by this exceptional in-house team. Dave has watched the department develop, from a set of chance encounters and well-timed solutions, to a well-oiled machine completing hundreds of jobs a week.
Dave officially retired in February 2012, but still works part time for the welding team, who continue to benefit from his years of experience. Challenge Dave, Stuart and Alfie to meet your process equipment requirements today; email info@adelphi.uk.com.
Dave (centre) with Adelphi Group Chairman Stephen Holroyd (left), former welding colleague Fred Smith, welder Stuart (right), and apprentice Alfie[:]