Chat with us!
News Blog
Keep up to date with the latest news, insights and features from the Adelphi Group of Companies
Drum Filling & Decanting Solutions for the Lubricants Industry
October 30, 2020
With additives becoming more viscous and more expensive, this is a critical time for the lubricants industry; drum filling and decanting processes must be as lean and cost-efficient as possible, to avoid costly waste.
Adelphi manufactures the highly regarded Masterfil range of drum filling and decanting machines for lubricants.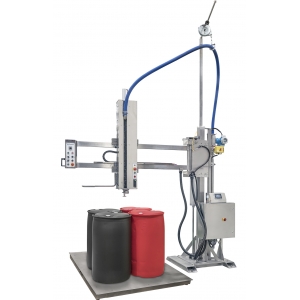 The valuable production benefits are:
Less waste; money saved – accurate filling to within +/- 0.2%
Versatile – swinging, height adjustable boom arm on the Filling Machine can suit a wide range of container sizes
Unsurpassed hygiene levels – the Drum Decanting Unit incorporates a lance cleaning tank (rinsing kettle) where it cleans itself inside and out, ready for use with another product
Filling machines can be specified in either Flowmeter or Weigh Scale version, to suit the individual application
Fillers can incorporate an energy-efficient roller conveyor. Watch a video of this solution here >>>
Don't just take our word for it!
Here's what our customers have to say about Adelphi machines…
"Flexible, faster than our existing filler, and very good indeed at what they do"
~ Kilco International
"Well built, robust bits of kit"
~ Evans Vanodine
"They're the Rolls Royce of machines!"
~ Greyland Chemicals