News Blog
Keep up to date with the latest news, insights and features from the Adelphi Group of Companies
How to Improve Drum & IBC Decanting Speeds
August 11, 2021
The Adelphi Masterfil Drum Decanting Unit – for the Chemicals & Lubricants Industries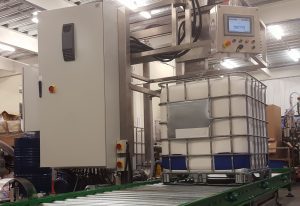 Time-Efficient, High Throughput
Fast decanting, using high viscosity variable speed progressive cavity pumps.
4" I/D hose option between nozzle and pump, to optimise pump performance.
Decanting pump speed feedback loop, to maximise product flow rate.
Suitable for decanting high viscosity additives, typically up to 23,000 cst.
Can be configured to decant from either single drums and/or IBC's.
Maximise Additive Retrieval, for Greater ROI
Drum tilting station and spray cleaning rinse cycle, to optimise additive recovery.
Pipework can be air purged, to minimise expensive additive loss.
Nozzle wiper and flying drip tray, to improve the amount of retrieval.
Manifold inlet option to decant from multiple additives sources.
Intuitive Operation & Improved Operator Safety
Accurate vertical decant/rinse lance movement by SERVO drive.
Unique lance design, to effectively decant and rinse sequentially.
Nozzle tracking to prevent the nozzle from being immersed too deeply in the product.
PLC with HMI on swivel arm for ease of operation.
Rinse kettle weight monitoring option, to improve functionality.
Mounted on a skid for easy transport and installation.
Infeed and outfeed can be automated with a roller conveyor, driven for efficiency and using gravity to save energy.
Superior Build Quality for Complete Regulatory Compliance

316L stainless steel wetted parts offer exceptional chemical resistance and compliance with regulatory specifications.
Compliant with either CE and/or new UKCA regulations.
Many of our machines are still fully operational over 30 years after purchase!
Watch a video of the Drum Decanting Unit in-action >>>