Durable, Easy to Sterilise, Re-Useable
Delivery within Days
Full Material Traceability
to meet international pharma and food quality compliance regulations.
Product Specification:
2 - 50L jacketed vessels available as standard.
(other sizes available upon request)
316L pharmaceutical grade stainless steel, with a 304 grade 0.1 bar low pressure water jacket.
Supplied with a 1/4″ BSP water inlet at the bottom, and a 1/2″ BSP outlet at the top.
Use with a non-pressurised water supply, with hot or cold water for heating or cooling.
Can be cleaned with alcohol-based disinfectants, and in industrial dishwashers/autoclaves.
Optional Material Grade, Surface Finish & TSE certification available upon request.
A range of optional modifications are available to meet every requirement, including bespoke etching for batch traceability.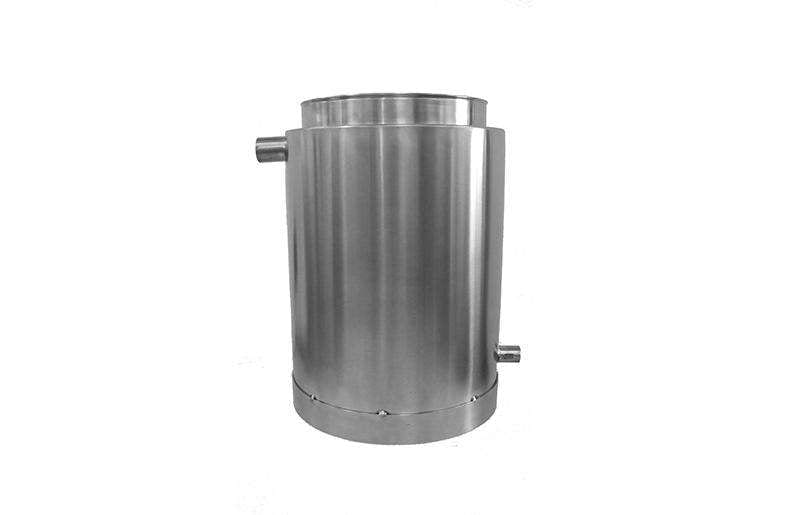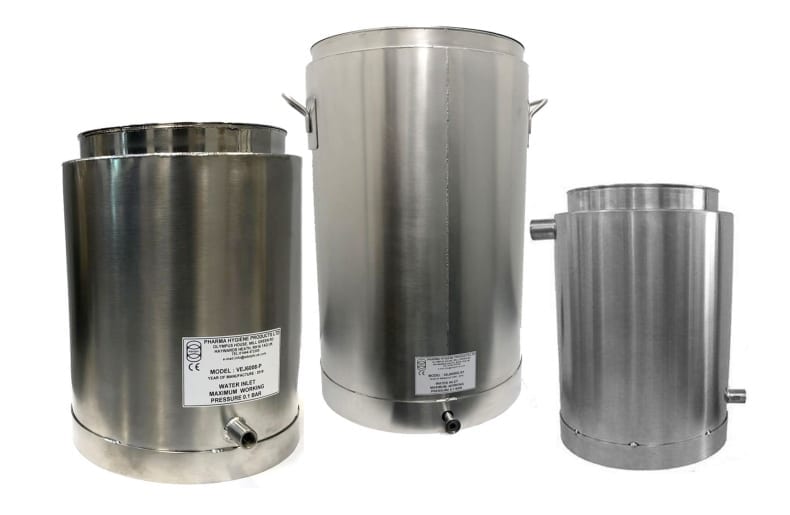 Pricing:
| Product No. | Description | Material | Price |
| --- | --- | --- | --- |
| VEJ6001P | 1L Brim Full Vessel and Lid, with 304 SS Low Pressure Water Jacket | 316L SS | £995.00 |
| VEJ6002P | 2L Brim Full Vessel and Lid, with 304 SS Low Pressure Water Jacket | 316L SS | £1215.00 |
| VEJ6005P | 5L Brim Full Vessel and Lid, with 304 SS Low Pressure Water Jacket | 316L SS | £1515.00 |
| VEJ6006P | 6L Brim Full Vessel and Lid, with 304 SS Low Pressure Water Jacket | 316L SS | £1520.00 |
| VEJ6008P | 8L Brim Full Vessel and Lid, with 304 SS Low Pressure Water Jacket | 316L SS | £1645.00 |
| VEJ6010P | 10L Brim Full Vessel and Lid, with 304 SS Low Pressure Water Jacket | 316L SS | £1775.00 |
| VEJ6015P | 15L Brim Full Vessel and Lid, with 304 SS Low Pressure Water Jacket | 316L SS | £1800.00 |
| VEJ6020G | 20L Brim Full Vessel and Lid, with 304 SS Low Pressure Water Jacket | 316L SS | £1840.00 |
| VEJ6025G | 25L Brim Full Vessel and Lid, with 304 SS Low Pressure Water Jacket | 316L SS | £1875.00 |
| VEJ6030G | 30L Brim Full Vessel and Lid, with 304 SS Low Pressure Water Jacket | 316L SS | £1940.00 |
| VEJ6050G | 50L Brim Full Vessel and Lid, with 304 SS Low Pressure Water Jacket | 316L SS | £2070.00 |
| VEJ6100G | 100L Brim Full Vessel and Lid, with 304 SS Low Pressure Water Jacket | 316L SS | £3750.00 |
Additional Modifications:
| Name | Price |
| --- | --- |
| Bespoke Etching - PRICE UPON REQUEST | + £0.00 |
Contact us about this product
Browse Other Types of Products