News Blog
Keep up to date with the latest news, insights and features from the Adelphi Group of Companies
Adelphi Machines Recommended by Eve Taylor (London) Ltd & Barry M
May 19, 2020
Flexible, scalable filling solutions for cosmetics & personal care products
Recommended by Eve Taylor (London) Ltd & Barry M
Eve Taylor (London) Ltd is an innovative creator of aromatherapy skin and body care products, including oils, creams, serums, gels and more. From modest beginnings around Eve's kitchen table, they now have their UK and International Headquarters located within an impressive purpose-built site in Cambridgeshire, and export as far afield as Singapore, Manilla, USA, Korea and Australia
Adelphi are proud to have supported their incredible journey of growth; Eve Taylor own three Adelphi Response Benchtop Fillers. In a recent interview, Eve Taylor Director Chris described the machines as "reliable, good solid pieces of equipment that have lasted", and is quick to stress that "when we've looked at other cheaper machines, in the long-term this would have been false economy". Read the full interview here >>>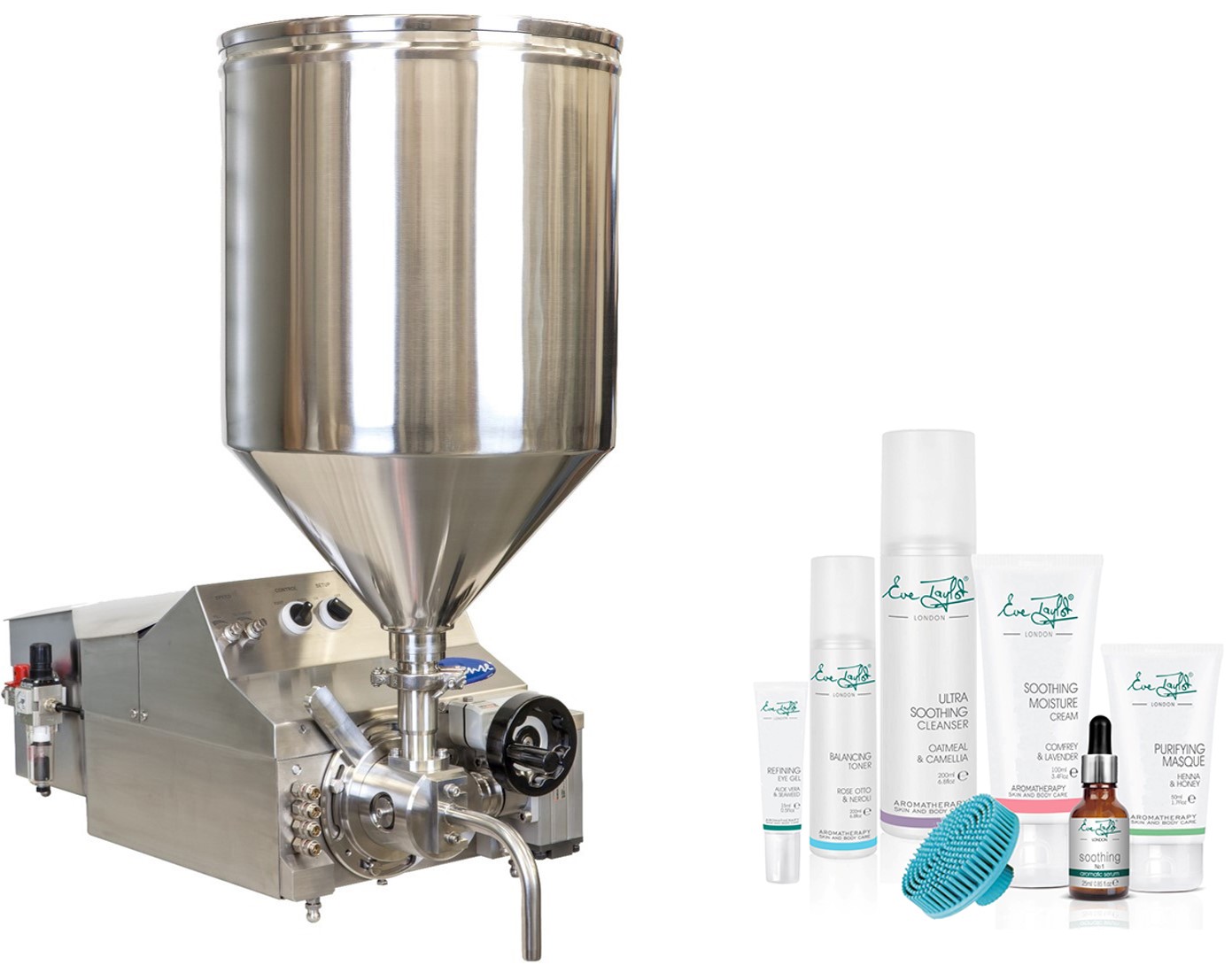 The Response is quick to assemble and clean, meaning that changing between products and containers is as easy as possible and production downtime is kept to a minimum; Eve Taylor's production team can swiftly switch from filling 10ml glass bottles of oils, up to 200ml toner tubes, as required.
Flexibility & Growth Potential
As your production requirements increase, our Response Benchtop Filler can be integrated into other machines in our Response range, so your initial investment is never made obsolete. The range includes our Response Monobloc Filler & Response Automation Base.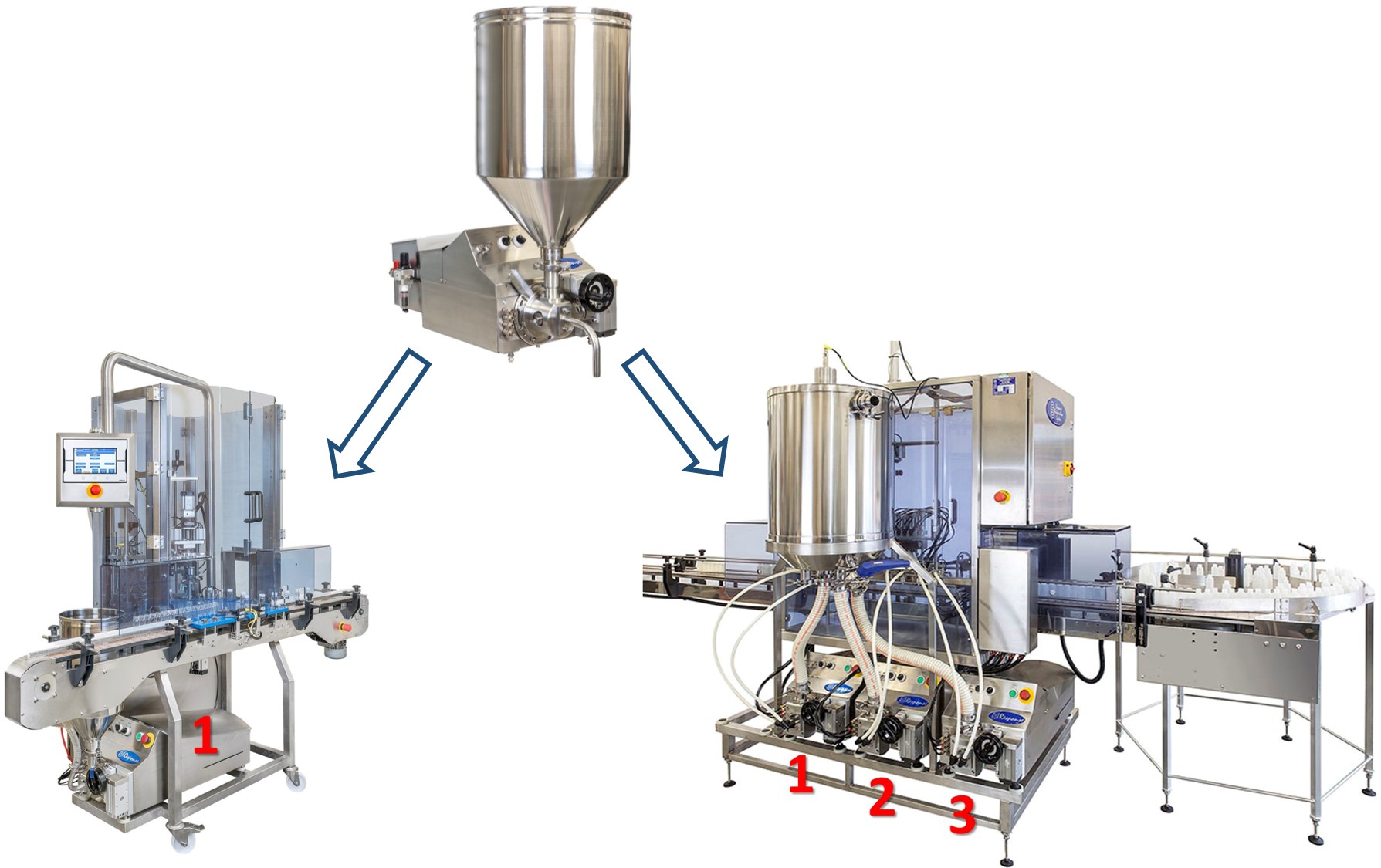 Response Monobloc Filler
The Response Monobloc Filler (pictured above left) is an automatic filling and capping machine which provides many advantages for customers compared with traditional inline packaging systems:
Capable of filling 5ml to 250ml containers
Space-saving design; the single starwheel completely synchronises processes
Ten-minute strip down time; quick and easy to change parts from one fill-size container to another, which minimises costly production downtime
Hygienic stainless steel construction; all wetted parts are 316L stainless steel
Response range fill accuracy of +/- 0.25%
Designed to effectively handle liquids, oils, creams, pastes and solids in suspension
Watch a video of the Response Monobloc Filler here >>>
Response Automation Base
Our Response Automation Base enables the user to automate up to four Response Benchtop Fillers. The Benchtop machines can be taken away at any time and used as stand-alone, semi-automatic filling machines. This system therefore provides great production flexibility; an highly adaptable automatic 8-head (up to 100ml fill) filler, or up to four independent semi-automatic benchtop filling machines, within just 30 minutes.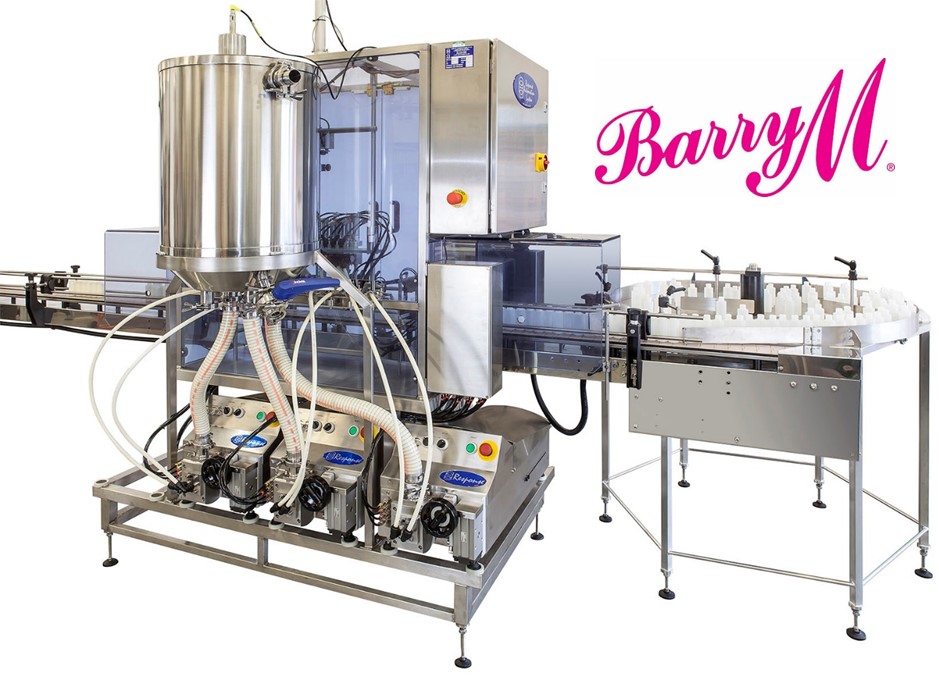 Barry M Cosmetics, a London-based manufacturer, is a long-standing Adelphi customer who has used a Response Automation Base since 2017.
Their Production Manager Greg Suarez commented that "the machine can be adapted quickly to different fill sizes and container types, which benefits us greatly with the variety of products we fill. We also find the change parts on the machine really quick and easy to swap over when we change production runs, so we can keep the machine clean between fills with minimal effort".
Barry M share similar values to Adelphi. Both are family run, and both are extremely proud of their British heritage. Adelphi, like Barry M, aim to produce products of the highest quality. At Adelphi this is achieved by sourcing and manufacturing British components to produce filling machinery of the highest standards, which are all manufactured at our eco-conscious production facility in Haywards Heath, West Sussex.
Are you manufacturing cosmetics or personal care products, and would like to know more about the Response range? Don't hesitate to contact Adelphi today on +44 (0)1444 472300 or email info@adelphi.uk.com