Tri-Clamp Hose Tail Connectors
Durable, Easy to Sterilise, Re-Useable
Delivery within Days
Full Material Traceability
to meet international pharma and food quality compliance regulations.
Product Specification:
Tri-clamp Hose Tail Connectors 0.5 - 3 inch diameter are available as standard.
Exceptional average surface finish of 0.8 micrometers RA.
316L grade stainless steel, contains 2% molybdenum to help resist corrosion from chlorides.
Can be cleaned with alcohol-based disinfectants, and in industrial dishwashers/autoclaves.
Optional Material Grade and Surface Finish certification available upon request.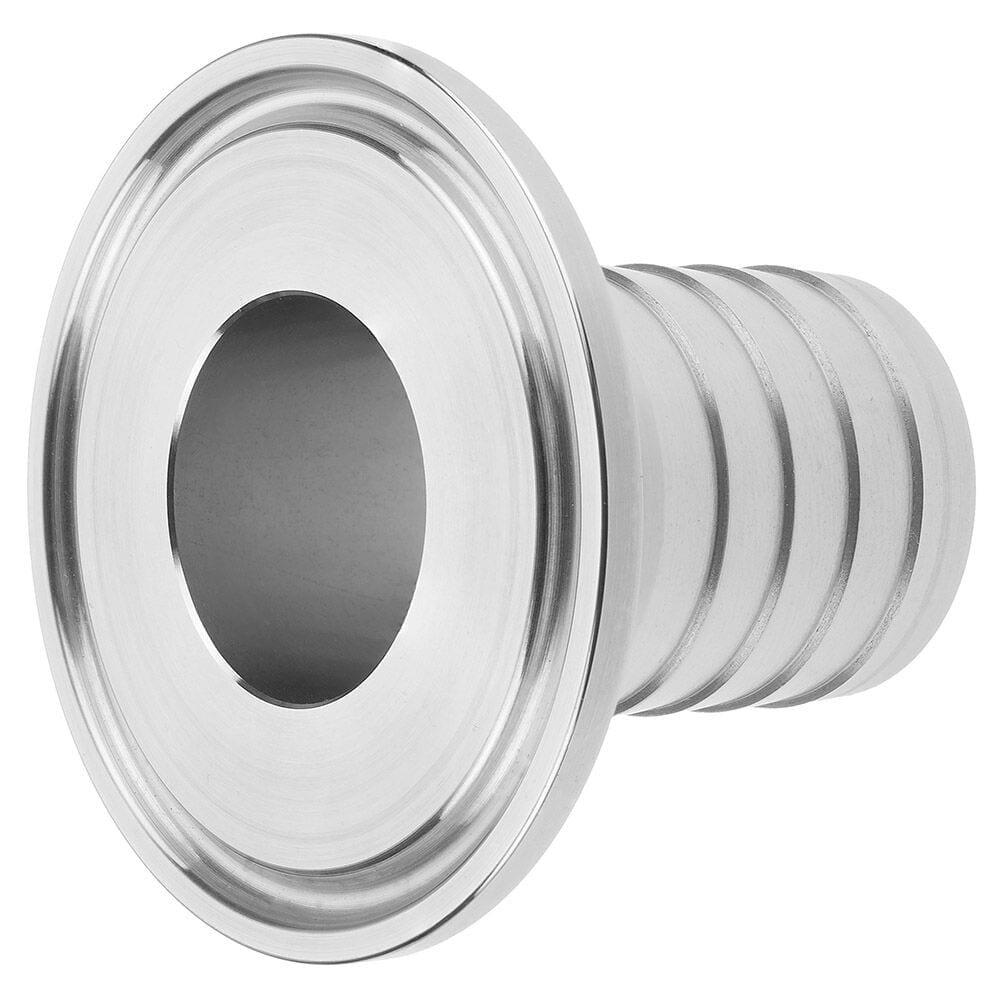 Available from Stock
(subject to availability)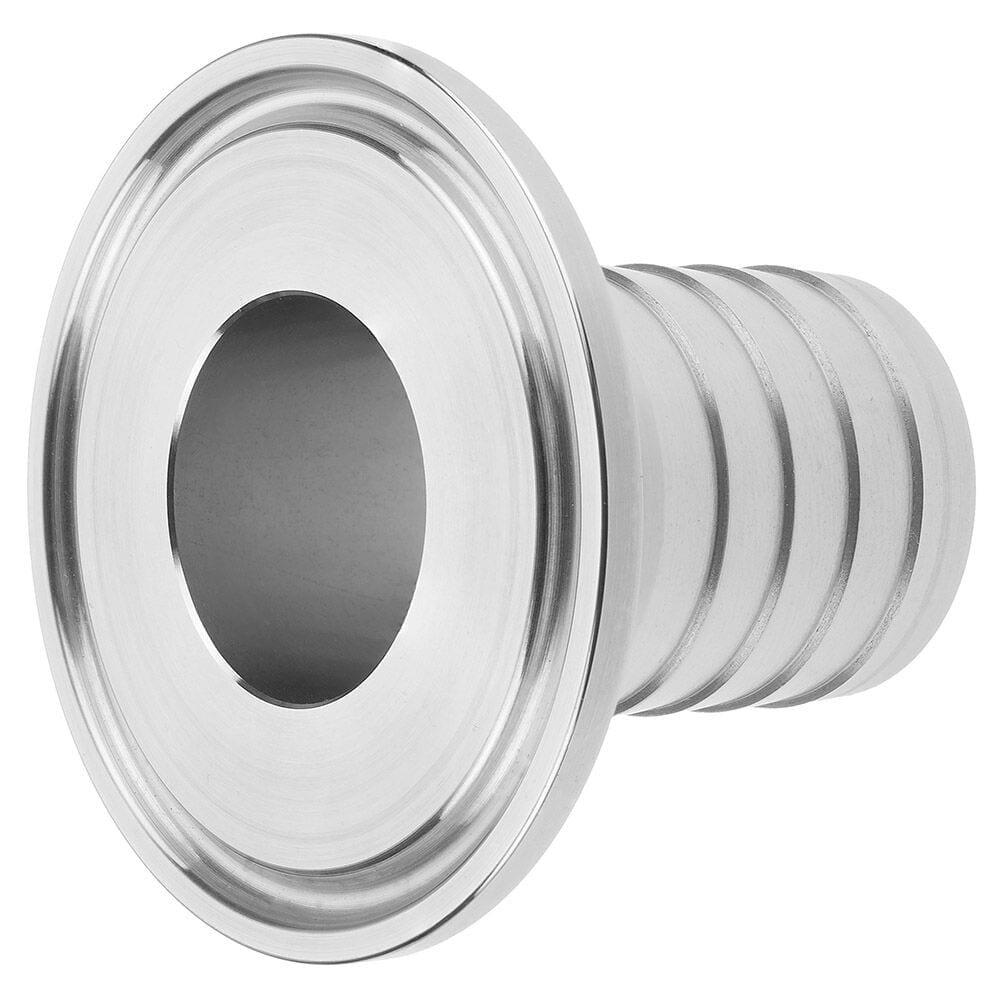 Pricing:
| Product No. | Description | Material | Price |
| --- | --- | --- | --- |
| HTC21772012 | 0.5" Ferrule x 0.5" Hosetail | 316L SS | £17.50 |
| HTC21772034 | 0.75" Ferrule x 0.75" Hosetail | 316L SS | £17.50 |
| HTC21772100 | 1" Ferrule x 1" Hosetail | 316L SS | £19.70 |
| HTC21772150 | 1.5" Ferrule x 1.5" Hosetail | 316L SS | £21.60 |
| HTC21772200 | 2" Ferrule x 2" Hosetail | 316L SS | £49.00 |
| HTC21772250 | 2.5" Ferrule x 2.5" Hosetail | 316L SS | £52.00 |
| HTC21772300 | 3" Ferrule x 3" Hosetail | 316L SS | £77.00 |
Contact us about this product
Browse Other Types of Products
Tri-Clamp Hose Tail Connectors
The phrase 'Tri-Clamp' was originally used to describe clamps comprised of three segments, but now the name is more generally used to refer to all types of hygienic connections and fittings. Tri-Clamp fittings are connections for pieces of pipe, which facilitate easy disassembly and cleaning. These should not be confused with valves, which make up part of our range; valves are used to control the flow of product.
Tri-Clamp Hose Tail Connectors are manufactured from 316L pharmaceutical grade stainless steel, they allow for clamp flange to be connected to a flexible hose
Adelphi Tri-Clamp Fittings
Easy to assemble and break down, Adelphi's Tri-Clamp fittings are ideal for short-term process lines and equipment as well as applications that require an easy method of cleaning to maintain optimum levels of hygiene. Our range has smooth, crevice and pit free interiors to ensure non-contamination, superior corrosion resistance and long service life.
Our range includes fittings in 304 and 316L grade stainless steel, with outside pipe diameters from ½ inch through to 4 inches. The roughness average on the internal surface is 0.8 micrometres RA.  Full material certification is available on all our Tri-Clamp fittings. Gaskets are available in Silicone, Viton or EPDM.
Types of Tri-Clamp Fittings
Our Tri-Clamp fittings comprise a series of pipes and unisex joints, which are available welded or as separate elements. A gasket is sandwiched between joints and the union is completed with a leak-tight seal.
Here are descriptions of some of the elements, to give you a basic understanding:
Ferrule Ends – BS 4825 Pt.3
Ferrules are used to connect Tri-Clamp fitting ends with a permanent welded end in sanitary process lines. We have outside pipe diameters ranging from 0.5" to 4" in stock.
Ferrule End Gasket Seals
Manufactured from Silicone, PTFE, Viton or EPDM, PHP Tri-Clamp Ferrule Gaskets are designed to form a seal between Ferrule Ends. The raised ridge each side of the gasket seal fills the concave ridge of the Ferrule Ends.
Clamps
Tri-Clamp fitting clamps come in two main types: a 2-segment (single hinge) and a 3-segment (double hinge). PHP only offer the 3-segment style clamps, which are generally considered to be more 'heavy duty'. The main benefit of the 3-segment type is they are easier to install in tight spaces. One size of clamp will fit all ferrule types of that size.
Ball Valves
Manufactured from 316L grade stainless steel, with a PTFE seal/stem seal, PHP Tri-clamp Ball Valves are 100% air tested under water at 100 psi in open and closed positions.
Butterfly Valves
Manufactured from 316L grade stainless steel, PHP Tri-clamp Plain Butterfly Valve includes a lockable open or close handle and four bolts to dismantle for easy cleaning.
Explore our range
Browse our full range of tri-clamp fittings today.
If you would like to purchase or receive a quotation for any Tri-Clamp Fittings, simply get in touch using the contact form below.